About This Creator
From vintage threads to Vogue spreads and the grueling process of songwriting, we sit down with Ariana DiLorenzo of Ariana and the Rose to chat her inspirations, most disliked faux pas and "getting it together". It turns out one of Sanderson's best live musicians is also one hell of a storyteller…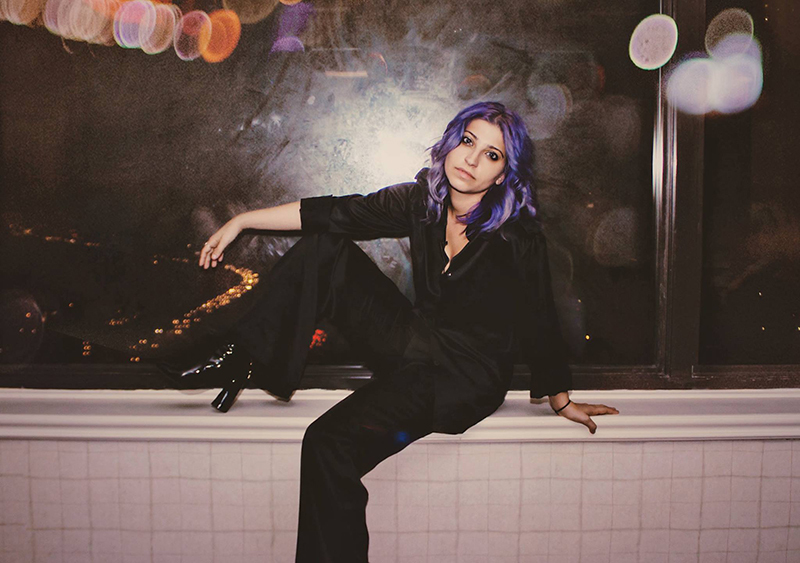 You just released your new music video, How Does That Make You Feel, with top marks from none other than Vogue. Do you monitor closely how your work is received?
Putting a single, video or an EP out always comes with expectations, but I try not to dwell on it. You release it and you hope for the best, and then you're on to the next. Usually by the time my next big thing is released, I'm already working on something else. I try and not be too precious about it, you want people to like your work and it is important to see how it's received, but I don't put off making something new because of that.
When I started making music my goal was never to be a pop star, that was never what is was about. My goal was to make the music that I loved and find an audience for that music. For me it's always been about making the music that I loved.

Ariana's latest music video has enjoyed popularity since it's launch this month.
Tell us a bit about yourself and how it all started…
I was born and raised in New York. I actually grew up in the suburbs and then went to secondary school in the city and university there too.
Growing up as a teenager in the city that never sleeps must have been exciting.
It was, though for us it felt normal. Me and all of my friends grew up in the city together, and it wasn't until later in life that we thought, 'Actually, that was weird and super awesome'. I went to a performing arts high school so I was really immersed in New York's culture from a young age. I then performed in theatre shows for a while, and eventually put a band together when I went to university. I was just doing what you do I guess, as a musician. Somewhere along the way, it dawned on me that I could do this [music] for real.
I ended up really pursuing music, though it didn't happen overnight. I remember making some music that was like really average pop music, and a friend in the industry said to me, "I think I get what you're trying to do, and you should go to London to do it". That was a lightbulb moment, for sure. Once I came to London, I started making music that I was really proud of and finding people that I really wanted to work with. The ball started to roll from there.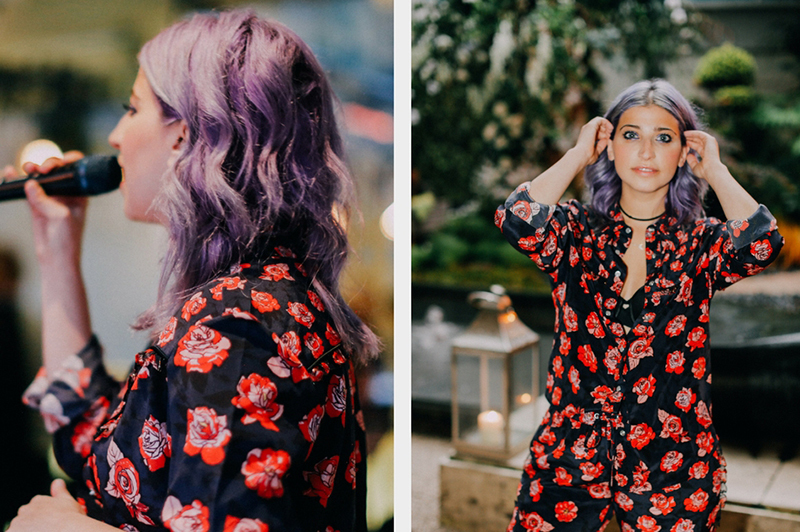 Ariana performs live in Sanderson's Courtyard Garden.
It seems amazing that you couldn't find the inspiration or the know-how to develop your music in New York.
I know! During the time that I was in university, there were all these really amazing bands that were coming out of Brooklyn, people like Passion Pit and The Grizzly Bear. These really cool indie bands just exploded. But synth girl pop music really wasn't happening there. People like Lorde hadn't come onto the scene yet. The kind of music that I wanted to make – something that's not out-and-out pop music but has a left-of-centre flair – wasn't really on American radio at that point.
So yeah, I was having a tough time because I wasn't a typical singer or songwriter in front of a piano, but I wasn't strictly pop either; I just couldn't find my niche. Here in London though, pop synth was already happening. Bands like The Knife and Goldfrapp and CHVRCHES were making that music. I came over to London and people were just like, "Yeah of course we can make this. Where have you been?" I was relieved to find people who really got it.
And how do you find those people who "got it"?
I was really lucky. I had made some music in New York with a really amazing producer called David Kahne. He had worked with many musicians, from Paul McCartney to Sugar Rae. While the music we mad wasn't quite perfect, it was still a good reflection of what I wanted to put out there. It's really hard to explain music with words. Once people hear your stuff, I think they get you more.
It did take me a while in London though. I spent a long time writing, then I met people who knew other people, and it just grew from there really. It came from being around and being present, I think that goes with any industry – if you show up, you're halfway there. You do some bad writing sessions, you do some good writing sessions, you meet people you love and you meet people you don't love. Finally, you stick with the people who really understand what you're all about.
I had been gigging loads and I landed a tour supporting an artist called Foxes, which was amazing. I fell in love with the culture of the city and I met so many creative, great people. Eventually I found my way in London.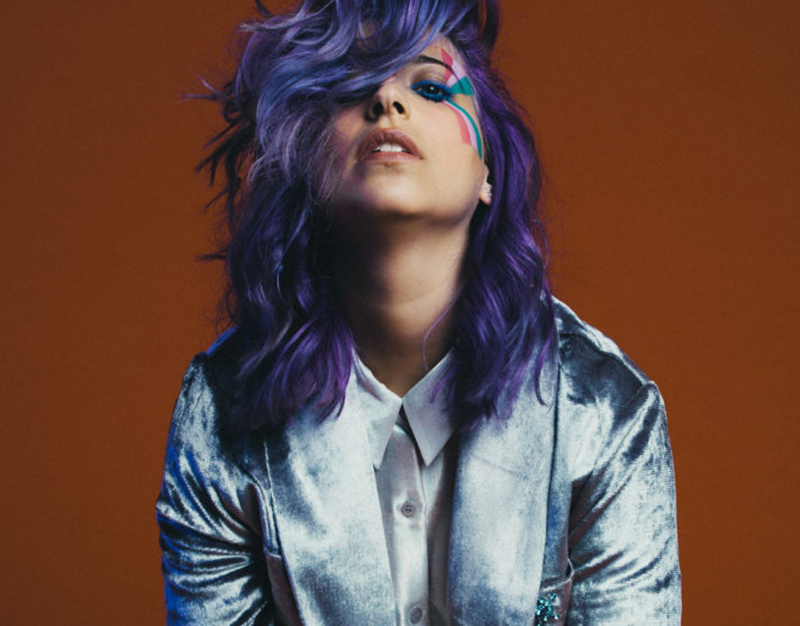 A penchant for Camden's vintage stores keeps this musician well clothed.
Moving overseas is no easy feat. Did you ever just feel like throwing in the towel?
Every day! I think this is the first time, and I'm now two years in, where I don't think about quitting every day. When I finally decided to move here full-time, I had to get a Visa which was a big hassle. I remember trying to deal applications and thinking, 'This is the worst idea I've ever had.' You just don't realise how hard it is going to be until you do it. But at that point I was starting to get paid work and my team was coming together. No sooner did we get our bearings here in London then we were like, "Great! Let's go back to the States and do it there", but that felt decidedly easier because that's home.
You bounce between London and New York a lot. Let's do a little UK vs. the USA stand off.
What is New York missing that London has?
More music venues.
What is London missing that New York has?
Pizza by the slice.
Tube or Subway?
Subway.
Yellow cab or black cab?
Yellow cab.
Hot dog or fish and chips?
Hot dog. I don't like fish and chips, and people always tell me I'm weird for that.
Shoreditch or Williamsburg?
Shoreditch. It isn't as Williamsburg-y as Williamsburg is.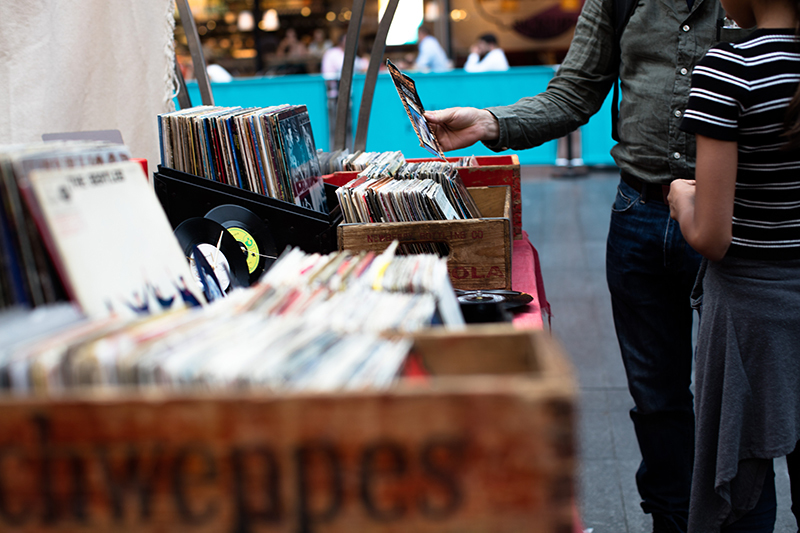 Ariana will take Shoreditch over Williamsburg any day.
Back to the music for a bit – you're bank of songs is bigger than ever. Do you have a favourite?
I love doing Supercool live. When I'm not sure if the audience is really with us in a set, I think, "Just wait, we're going to get you there" and we always do. It feels like it [Supercool] is something that I have in my back pocket that I know I can bring out when I need to. So yeah, maybe my favourite is Supercool, I just love the melody. It was the first song that I did where I was like "Okay, this is what it all is". I love that Love You Lately has resonated so well with people, too. We're just about to hit a million streams on Spotify.
What's the toughest thing about songwriting?
I always liken writing a song to working out. I know some people love working out, but I hate it. Before I go to the gym I can never be bothered, but then afterwards I feel like Super Woman. That's how I think about my songwriting too. Music for me is sort of like that, writing songs and reliving past feelings or situations is tough, even though it's what has inspired me. At the end of it though, I always feel better than when I started.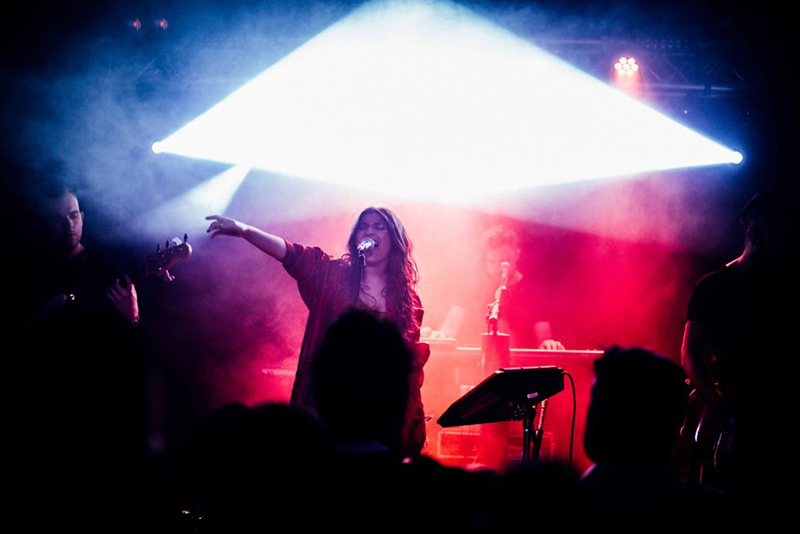 Do you ever worry that you're going to run out of things to say?
Definitely not. I feel like everyone in my life wishes I ran out of things to say!
A few of your songs talk about break ups and relationships gone wrong. Are you ever worried that your friends or exes will know your writing about them?
Oh, my exes do know it's about them. Once, when one of my ex boyfriend's heard a song I wrote, he cried. And I thought, 'Good! Serves him right'. I'm joking – I do worry that my songs will hurt someone's feelings but I don't know, I guess it's like collateral damage for dating a songwriter.
What, or who, inspires you?
I'm really inspired by cities and travelling. I've been really lucky to travel quite a lot. I lived in South America for a while, I travelled round Southeast Asia, and I'm away a ton for work now too. Since June I've been to Stockholm, Berlin, New York and London, and I really don't take that for granted. Travelling and making music with people from other places has been the number one thing that has progressed my music.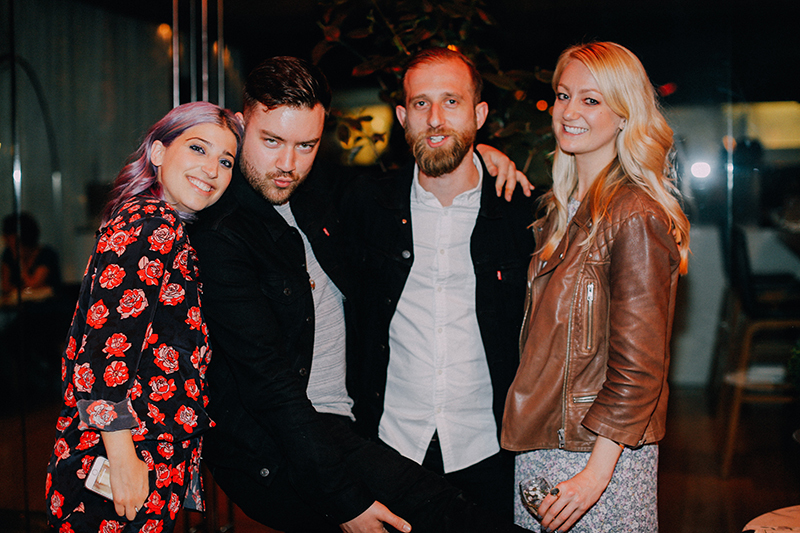 Finding her way in London as a musician was made easier with Ariana's pals in tow.
Where have you travelled that has most impressed you?
One of the most affecting places I've ever been was Hanoi in Vietnam. They have this stunning lake in the middle of the city, and the trees; it's just such a beautiful sight. It was like a book!
Onto other inspirations… What do you read?
I'm either reading a Malcom Gladwell kind of book that's about social issues, or I'm reading the trashiest beach read ever. There's no in between.
What would the title of your autobiography be?
That's a really good question. I'll have to sit on that, it's hard!
No problem. Your ideal weekend?
Well the weekend before last was pretty great. It was my birthday, and everyone wanted me to go out, but I was having none of it. On Saturday I shut my phone off, put on the comfiest pair of sweats and binge-watched Netflix. There's a park outside my flat and I went there and read a book for a while. That's my ideal; quiet relaxation. To be able to do nothing on a weekend and chill at home is such a luxury as usually I'm working.
Where is home?
Angel in Islington. I live in a really cute one-bedroom place. I was so happy when I found it.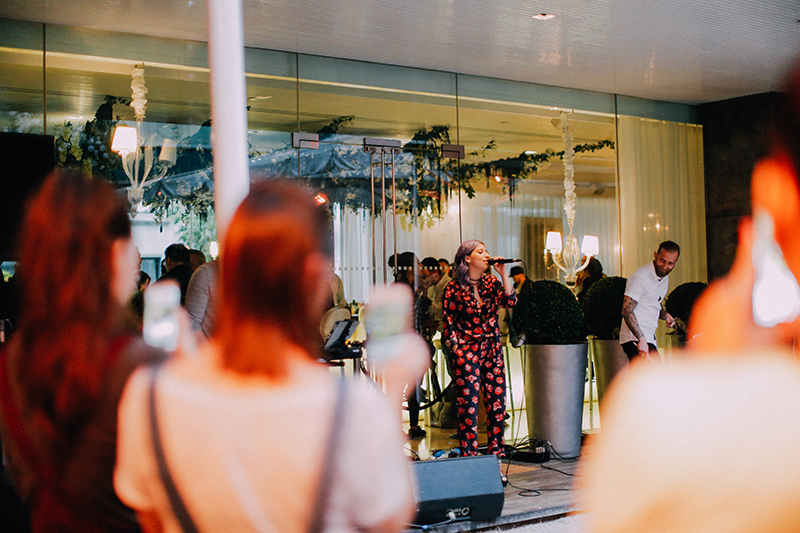 What do you spend your money on?
Tons of food, and clothes. Vintage shopping is one of my favourite things. There's a couple of really cute shops on Camden Passage. Every time I go past them I have to go peek in and see. I found this really amazing tracksuit made out of shimmery fabric the other day, it was so cool.
What makes you lose your temper?
Ask any guy I've dated. Joking, again! It bothers me when people don't follow through with what they've said they will.
Best piece of advice?
My dad gives me the best advice. He once told me to throw yourself into what you love, and the rest will come. I think that's pretty great advice.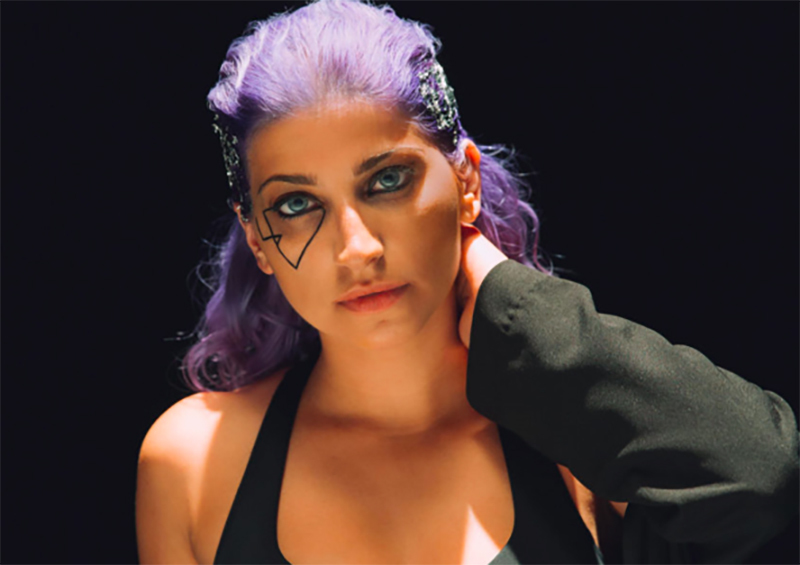 As we're packing up, Ariana grabs us - "I swear, I'm getting it together." We looked at her, perplexed. "The title of my autobiography!" she tells us. Considering her recent spread online in British Vogue, the release of a striking new music video just last week, and her upcoming set list in some of Europe's hottest venues, Ariana's version of "getting it together" seems vastly different to most. Though the comments seem typical of this effervescent rising-star; her chosen humble title sums up her self-deprecating warmth and down-to-earth nature to a tee. Watch this space, Ariana is going onwards and upwards - whether she knows it or not.
For more on Ariana and The Rose, head to her website here, or listen to her latest EP, Retrograde, below...
Other Locals