About This Creator
In the world of fashion, what helps a blogger stand out among the crowds? Killer style for one, and a professional photographer as a husband for two. Daniela Ramirez reigns as a top blogger in Miami, and her husband Gaby found his profession through shooting her daily looks. We chatted with the stylish duo at Mondrian South Beach about the evolution of blogging, Miami style, and where to hang out in the 305.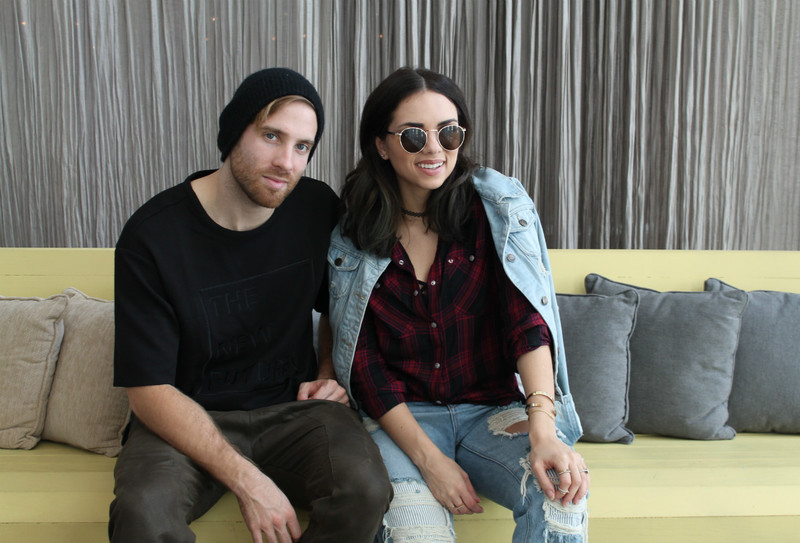 Where are you from, and what brought you to Miami?
Daniela: I am from Venezuela, and I came here for college, to study here. And the weather, I didn't want to go further north than Tallahassee because of the weather. I've always been very independent and wanted to experience a new place
Gaby: I came from Puerto Rico, I came for the weather and how close it still is to home. My parents wanted me to experience another city. Now it's been 11 years.
Where did you two meet?
Gaby: We met at FIU.
How long have you been blogging?
Daniela: I started in 2009, but it was a different blog. I stopped it because my personal site was doing so much better. It was examining more trends versus personal style. I got my masters last year and was doing the blog full time then too. I've been doing it full time now since 2013.
How did you get your start in blogging?
Daniela: I was in Venezuela on summer break, and in South America, all of my friends were in school because the schedules are opposite. I got a call for an internship, and I googled "What to wear to an interview"?, and I found so many results in English. I wondered why there was nothing in Spanish—I started my blog that day. I wanted to be a normal, relatable girl for people to see as an attainable fashion inspiration. The first blog I did was actually anonymous, then one day I did "10 Ways to Wear the Same Black Dress," and it was a huge hit. So I started doing photos with myself in them and using Chiclopia. I was using a tripod so I didn't have to bother Gaby.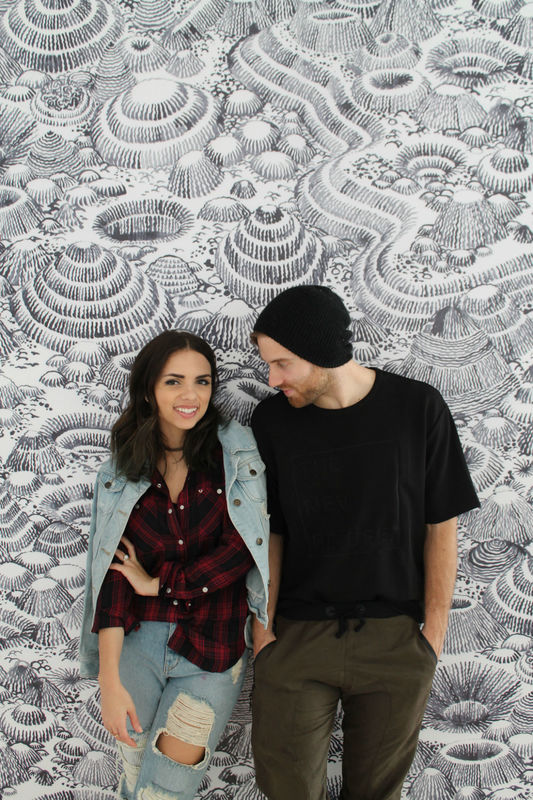 Not too long ago, a blogger wasn't exactly a career. What did you envision yourself doing prior to the blogging boom?
Daniela: It's funny, because when you're 18 and have to choose a career, you don't really have an idea what you want, you're too young. The blog was started as a platform for me to learn, not an end goal. I wanted the blog to be a step towards working for a big magazine. I never thought it could be a profession.
What do you love about the Miami creative community compared to other cities?
Daniela: People are more supportive of each other. We have a good community here. Gaby has a group of photographer friends who group text and talk frequently. When I've gone to events in LA and other cities, its very cliquey. It's all a competition. Here, us girls all text each other and say oh are you going to this event tonight? Or things like that. Everyone become friends aside from just being linked together as bloggers.
With fashion, and how it is around the world not just the US, Miami is very underrated and not taken seriously in that sense. It doesn't mean that people are not trying- people stick together and help create that larger voice. The creatives here are all working together to bring that image to a higher level.
Describe Gaby's start in photography?
Gaby: Professionally, the start was with Dani's photographs. We didn't have any cameras, I had a point & shoot. I liked taking photos of random things, I liked it as a hobby. Then she started needing more photos, and I started learning more and researching and how certain cameras do different things. I got an entry level, and progressed over time. It's been an evolving process, we're still changing our mediums and searching for something better. It's no surprise when we get the mail and there's a new camera to try out.
What kind of camera are you currently using?
Gaby: FujiFilm -T1. The quality of the picture that comes out of this camera is unique—people recognize the changes and comment like "these pictures look so much better," and its easy to carry around. The lifestyle of the blog changed when it was that much easier to take great photos.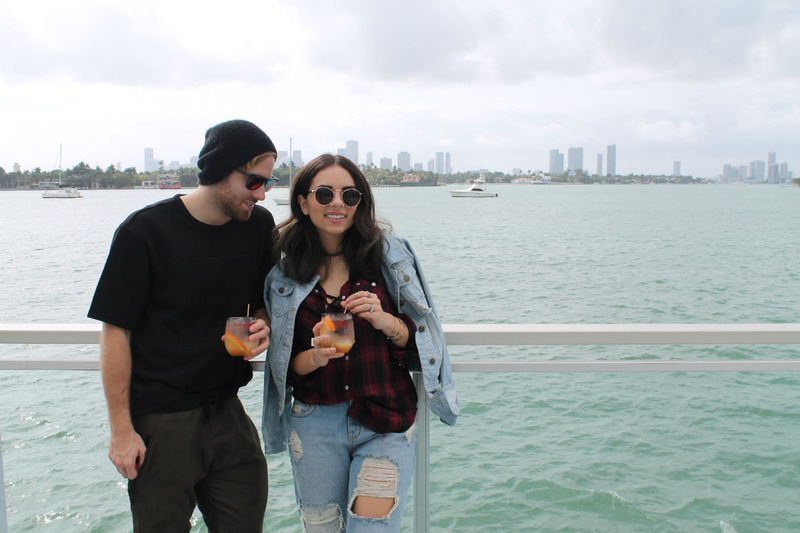 When you travel, do you try to disconnect or you see more photo ops?
Daniela: A little bit of both. Our style of approaching to shoot stuff is very in the moment. We don't have big productions, we don't think, "Oh we have this location, we need to shoot three looks." Its more organic, its more that we see a place that looks amazing and we take advantage and want to shoot some photos. But of course, I pack more. Just in case.
What are some of the biggest lessons you've learned over the years from blogging?
Gaby: I guess, for me, it would be to respect what type of art there is. To not downplay anything you see because you don't understand it or get how it works—this is a job and it takes effort. We put effort and thought into everything we do, the same way someone would at a 9 to 5, just on our own terms. I don't think I would understand that without going through it. Friends and family still don't get it. It's been a big lesson to not underestimate the power or potential of something just because it isn't part of your routine.
Daniela: For me, I remember reading "Being famous in social media is like being rich in monopoly." People take this all too seriously. I like being able to relax, to hang out with friends and not talk about the blog or business, and a lot of people think "you just take pictures." There's a lot of work behind it.
What inspires you about Miami?
Gaby: For me, its not so much inspiration, its my desire to change how other people see Miami. I take a lot of pride and it pleases me when people say "oh you're from Miami? your photos don't look like Miami." I want to showcase parts of the city aside from Ocean Drive. You can do swimsuit images that aren't the cliche notion that people have of Miami. I am motivated to represent the other side of Miami, the substance.
Daniela: I love the people in Miami. The warmth, I personally don't see that anywhere else. I want to change the view that Miami has to be sexy, and Latinas have to be sexy and client and over the top.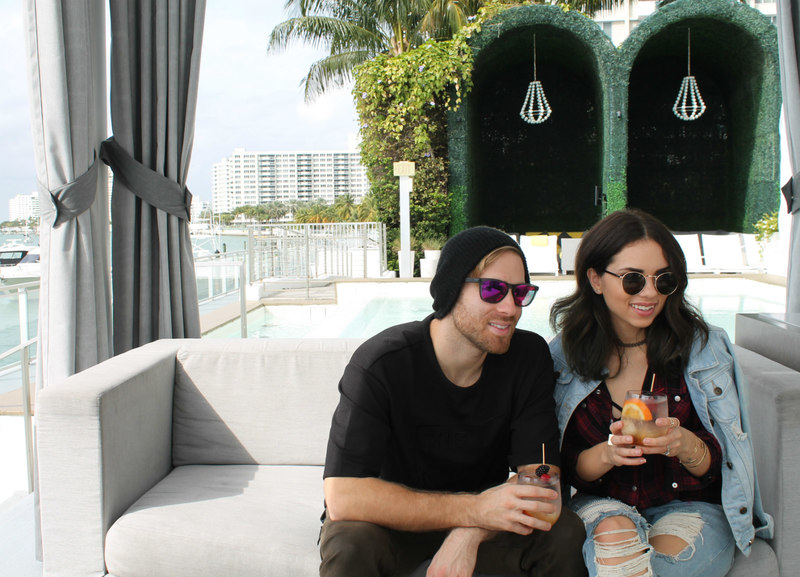 How would you describe fashion in Miami?
Daniela: It's changing, obviously. We have seen the changes, Miami ten years ago is different. Its still colorful and short and sexy, but Wynwood and Downtown have created this edgy, artsy vibe that have brought something different. Its the weather, its too hot to wear a lot of clothes.
Gaby: The midtown area, design district, and Wynwood, you see the trendy, fashion forward and unique style. They value what fashion is and what they are wearing, and how it reflects on their personality and who they are. When it comes to concentrations of people, those areas are where I see the most style. From a photographers standpoint, of course.
What can we expect from you in 2016?
Daniela: Lots of traveling, for sure. We're going to Chile in April, and also to Mexico. Puerto Rico for sure, a lot of New York and LA for work. We want to do a coast to coast road trip. We want to see the smaller cities, not the flagship places that everyone sees. More lifestyle shoots and brand partnerships.
Favorite places:
Restaurant: We like relaxed places, were not fancy. Dani: Cvche 105. Gaby: I have a few. I love Coyo, I love the steak quesadilla. and Sakaya Kitchen. Bombay Durbar, in the Grove, its amazing Indian food.
Cafe: Pasion del Cielo. And jugofresh, we go there a lot. And Lemoni Cafe.
Bar: Wood Tavern in Wynwood is relaxed and they have Taco Tuesday which is cool
Shopping: C Madelienes is such a unique spot, everything is arranged. And Shoe Gallery downtown.
Photo spots: We're always shooting downtown. The street by the Olympia Theater is pretty cool. And public garages are really cool usually the top floor is empty and there's a nice vantage point of being in a public but desolate place.
Recommendations for first time visitors: Sunrise at South Pointe Park, breakfast at Big Pink if you want to pig out, yoga at Mondrian overlooking the bay. Then you have to go to Wynwood and see the walls of course, and grab a coffee at Dr. Smood—the place is huge, you can just hang out and stop into Style Mafia, then go to see the exhibits at Perez Art Museum. And just enjoy being outdoors!
Follow these locals:
Website: Nanys Klozet, Gabe Media
Instagram: Nanys Klozet, Gabe Media
Twitter: Nanys Klozet
Other Locals