About This Creator
She's the beautiful, blonde supermodel who was, quite literally, the poster girl of the 80's, but Elle Macpherson's career has proved that she's got looks AND longevity. If her radiant instagram account has you wishing that she would only bottle the secret to her youthful looks, unstoppable energy and clear complexion, you're in luck. That's exactly what she's done with her line of wellness products and they've been a sell-out success, all owing to the personal brand that Elle has built. When she checked into Sanderson London earlier this summer for a brand new product launch, we jumped at the chance to ask her a few of our burning questions.
What's driven you to be so entrepreneurial?
From a young age, I knew the way to succeed was to create my own opportunities rather than waiting for them to come to me. Elle Macpherson INC. was the first business I set up. I trademarked my name - by taking risks and finding the courage to try to do things that were out of the box. I became an 'accidental' entrepreneur.
What do you think is the most valuable thing you've learned and would like to pass on from starting your own businesses?
I believe that failure is not the opposite of success, its part of success. My mistakes have been humbling and they're often how I learn. Have faith in yourself and try new things.
Who are some of the models that you most respect in the industry now?
Karlie Kloss. She's in a league of her own at the moment. She reminds me of the girls from the '80s and '90s. She's tall, she's intelligent AND she's beautiful. She's interested in her health and wellness and she's philanthropic. She sends a very positive message. Plus, she's very good at speaking to her fans in a considered and genuine way. She's a true social media super power.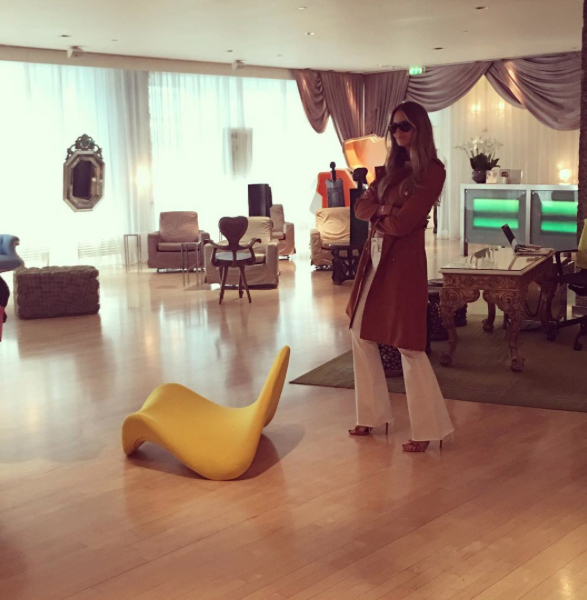 Elle checks in at Sanderson London. Image via @ElleMacphersonOfficial
Who are some of your personal role models?
Maya Angelou, Diane Von Furstenberg, Livia Firth and Arianna Huffington – strong, intelligent women who contribute are the ones that are leading with gentleness not force.
What do you most miss about London when you're away and what's your favourite way to spend a day here?
I miss my friends the most. I'm usually so busy when I'm here that I don't get to spend as much time with them as I would like. I try to make time to see as many as I can when I'm here.
What are some of your favourite London restaurants?
South Kensington Club and Iddu
What's your favourite travel destination and why?
Australia. The clean beautiful beaches, healthy lifestyle, fun and interesting people, great restaurants and it's home for me.
What was the last book you read?
'Wellth – How I Learned To Build A Life Not A Resume' – Jason Wachob
What three items can't you live without?
Love (my husband, my children and step-children), water and my Super Elixir Alkalizing Greens and Nourishing Protein Powder (available at Welleco.com)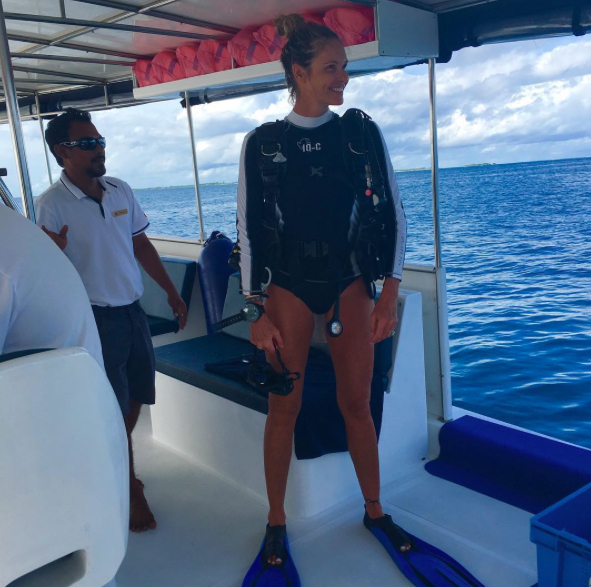 Image courtesy of @ElleMacphersonOfficial
What clothing brands do you live in?
Isabel Marant, Azzedine Alaia, Melissa Odabash for bikinis, Banjo & Matilda for cashmere... I'm fortunate to have a variety of choices and I like to mix it up. I've recently received some great pieces as presents from Kalita, Mint Velvet and Karen Millen - I can't wait to wear them.
What are some of your top tips for keeping healthy while travelling constantly?
I take The Super Elixir travel set to keep me on track; 2 teaspoons of alkalising greens in 500ml of water, before I take off and again when I land. I keep skin moisturised from the inside by drinking 3 litres of water. I find it reduces jet lag by maintaining an alkaline state in the body.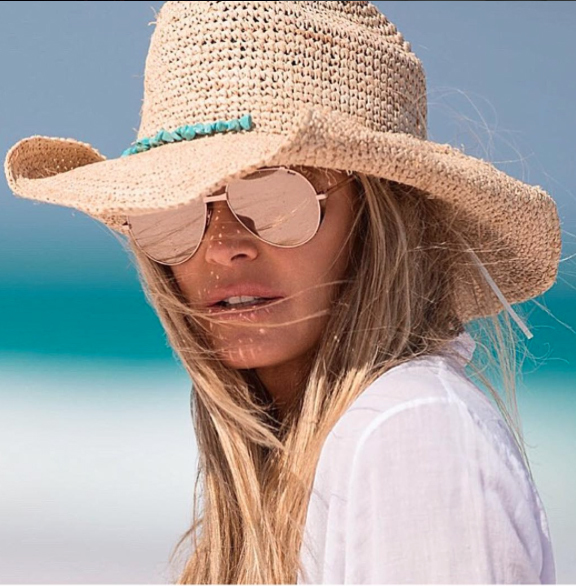 Image via @ElleMacphersonOfficial
We read somewhere that you have a knack for teaching anyone to look better in photos! Can you give us a few tips?
Smile! A smile is charismatic and magnetic. Stand tall and square up your shoulders to the camera and tilt you hips to the profile, it helps give the appearance of a small waistline. Lighting is also important. For makeup I try to use a matte powder on my T-zone. I also like to put a little touch of Burberry cheek shine to highlight my cheekbones for photographs.
What's next for Elle?
Keep doing what I love, being able to continue growing and building my two businesses. I have some big launches coming up that I will be able to share very soon!
Top Image by Billie Scheepers
Follow Elle:
Website: www.welleco.com
Instagram: @ellemacphersonofficial
Twitter: @ellemacpherson
Other Locals