About This Creator
In a city like Miami, it's no secret that bikini season is here all year long. For some, that's plenty of motivation to stay on top of their fitness game and be ready for a surprise beach day or boat trip. For fitness and lifestyle blogger Ginger Harris, the motivation to workout is plain & simple: it makes her happy. We chatted with the devoted yogi & pilates student at Mondrian South Beach about her favorite ways to workout in Miami, how she balances exercise and motherhood (key word, balance), and of course, what brought her to Miami in the first place.
Where are you from?
Indiana!
What brought you to Miami:
I came to Miami for work, I wanted to work for a magazine. I came from New York at the time, it started to get cold and I was like, I think I need to get to Miami. I knew there were a fair amount of publications down here, so I came. Now I freelance, I actually just got hired by The Knot, and there are some other fun projects in the works.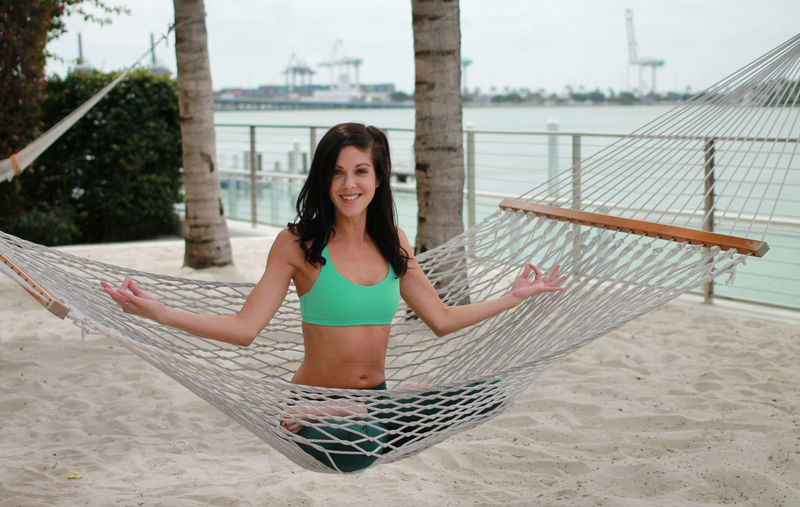 Have you always had a strong focus on fitness?
Always, my whole life. When I was a kid, I was a dancer and a gymnast. I rode horses, and I was a cheerleader for a while, I was nationally competitive, and then an All-American for the NCA. Working out makes me happy. It's how I've always kind of started off my day.
Tell us about the overall fitness attitude in Miami.
The fitness attitude here is amazing. As much as Miami likes to go out and party, they like to work out that much too. I watched the whole Sunset Harbour area transform into a fitness corridor—theres a fitness movement, a fresh juice movement, and we can be outside all the time which is amazing. I mean we live in bathing suits, we don't have a choice. You can ride a bike outdoors, and you're outside working out. Miami has a great yoga movement. You know, I actually hosted a class at Mondrian South Beach! There's also a new site called Welcome Earth, they connect with these amazing gurus and they want to have a Miami voice since our city has such a great place in that spectrum, so maybe that will be a nice role to take on, I'm kind of working as a city editor for them.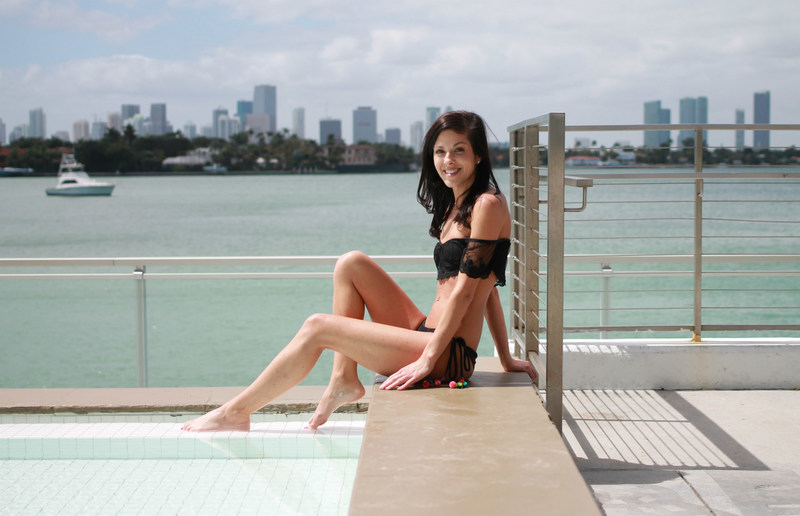 Favorite places to get a workout here in Miami?
I LOVE Pilates at the Pilates Place, Flybarre, it's ass-kicking, it makes everything hurt in ways you didn't know where possible. And yoga of course. I hate spinning. As much as I love to be active, I would never step foot into a traditional gym. There are some aspects of exercise that I really want nothing to do with. I like to work out smarter, not harder. You can definitely work out smarter in this day and age, its not about busting your kneecaps ten years down the line, its about still having them ten years down the line. And ab workouts are my favorite thing, I could do them all day. I go to classes of some sort about 3 or 4 times a week. I used to be crazy and go twice a day, five days a week.
You are vegetarian, right?
Yes, since I was 15. I always wanted to be one, I never liked meat but my mom made me eat it as a kid. When I got older, my mom was like "I can't fight this battle anymore." I feel like its something thats just in you.
Any tips for staying fit on the move?
It's always nice to check into a place that has a yoga class element, like Mondrian or Delano, and most places have a gym. The fun thing about working out in a different city is you can just start walking—be on the move, but be a tourist at the same time. You're already going to eat everything and probably you'll want to feel like walking anyway.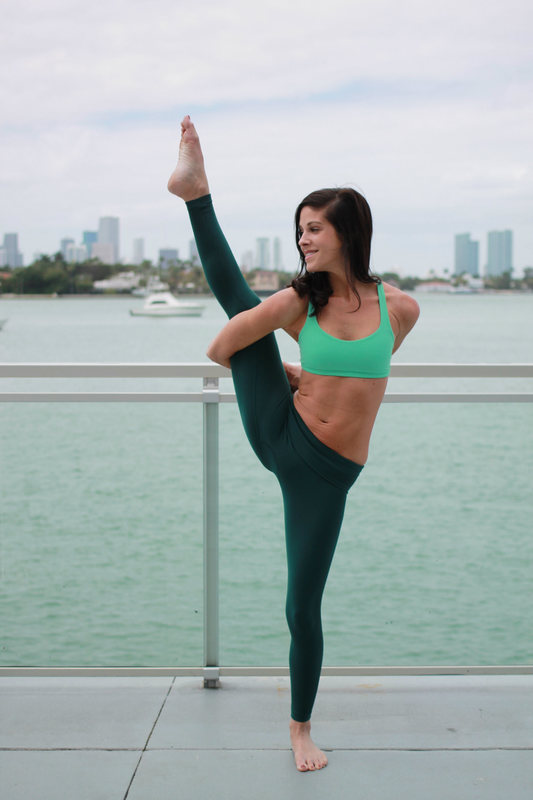 What are some of your fitness/wellness tips for here in Miami?
Always check out the local juice options! Always try to work out first thing in the morning, because if you put it off for later you'll probably skip it. Plus it gives you energy to get through your day. At the end of the day, there are too many excuses—I have a meeting, I want to go to happy hour, I'm tired. You get it.
You have a daughter, how do you implement a health lifestyle at home?
My daughter is a total bookworm, so I just try to get her to move her body as much as possible. I make her go on walks with me, and I'll have reward element like "walk with me to get a juice, and I'll buy you one." We like to eat sweets, but we do it in moderation. We snack on healthy things like nuts and berries. She's also a vegetarian. She loves wheatgrass, as long as its mixed with pineapple juice. Oh and we also have some epic dance parties. We are also very aware of chemicals, we use organic productts—we have sensitive skin and like to be cognizant of what we are putting on our bodies as well as in them. But then we eat Pop-Tarts, so it's a balance.
When you started your blog, you didn't really have a fitness element. How did that evolve?
I didn't have fitness or travel, they just sort of happened. I guess I was pigeonholed as a fashion blogger, but it's really more of a diary of my life. Fitness is such a big part of my life that to keep it out of the blog would be untrue to who I am. I started posting yoga photos on Instagram and that's kind of where it started. Without sharing that, it wouldn't be a true depiction of myself.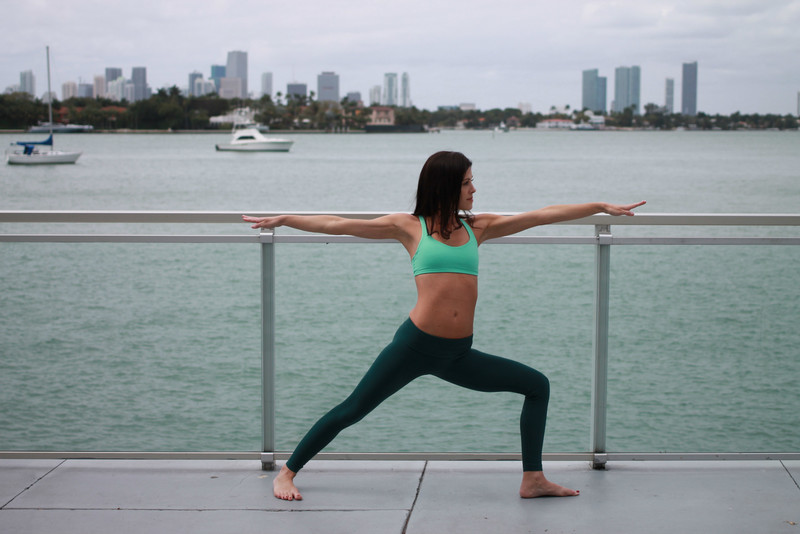 About Miami:
Favorite restaurants: Casa Tua is one of my favorites. I'll save my appetite all day to have the risotto for dinner. Juice Lab and jugofresh, they are great. Milk Gone Nuts—its a little gourmet place inside of a gas station on Lincoln Road! You can buy a jug of nut milk and they will mix in toppings and make nut milk popsicles. Here Comes the Sun, it's in an old fashioned vitamin shop in North Miami, its my favorite place ever and they deliver. Dr. Smood is also really good, they have a strawberry nut milk that's basically like a strawberry milkshake. Oh and Firito Taco on the 79th Street Causeway. I'm a big fan of Mexican food and Italian food. I enjoy going to the farmer's market at the botanical gardens and getting fresh pasta, fresh cheese, and fresh vegetables. We cook a lot at home and bake as well.
Favorite place to grab cocktails: I'm dying to go to the Anderson, it's by the people who run the Freehand and its over on the mainland in the Upper Eastside area. I love a good dive bar too, there's a great one around 62nd and Alton that I like. If I'm feeling fancy, I wanna go to Soho House, and Bardot is amazing.
Favorite places to shop in Miami: lululemon for workout clothes, Kore for dresses to wear out at night, and I love strolling the shops at Sunset Harbour. With Metta, Frankie, Blush, and Market, there are a ton of different styles all there. I'm big on shopping locally. I think it's important to support our local boutiques. We also have some amazing designers here. I love heading over to Midtown--Alessandra Gold has really fresh stuff and Ramona La Rue really gets the Miami girl aesthetic.
Favorite way to spend a day off: At the beach, in a bikini with a glass of rose. The sound of the waves is so calming for me, and I love the feeling of the sun on my skin. With SPF.
Find this Local:
Website: Electric Blogarella
Instagram: Ginger Harris
Facebook: Electric Blogarella
Twitter: Ginger Harris
Other Locals