About This Creator
At Mondrian South Beach, we like to incorporate health and wellness seamlessy for guests and locals alike. Through a partnership with Green Monkey Yoga, we've created a Sunday morning yoga class, which is taught on a rotation by a couple of different local yogis. We sat down with one of them, Hilary, and chatted about health and wellness over a green juice. Not sure if yoga is right for you? Read on and learn why Hilary believes there is a version of yoga that fits into everybody's life.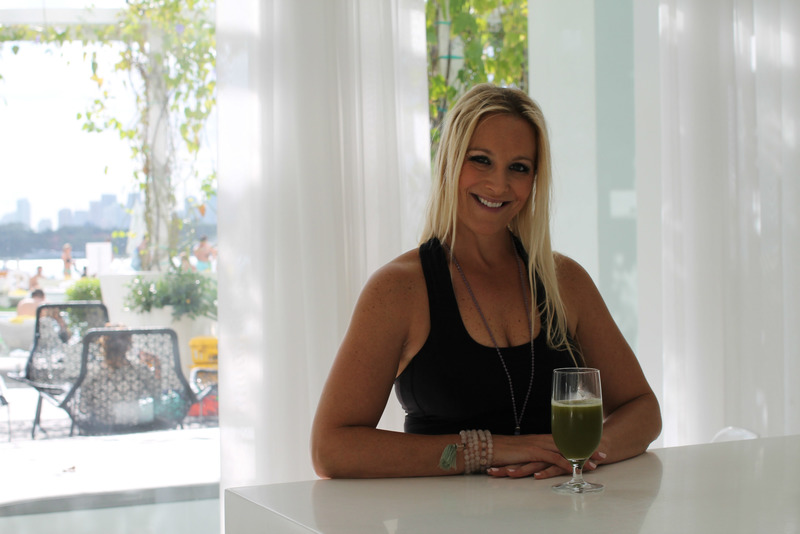 Where are you from?
Originally from New Jersey, but I've been here for a long time, South Beach is home. As soon as I found out there were palm trees and sunshine year round, I was on my way here. I came to UM to study Writing and Business, and I stayed. It's also the same place I discovered yoga.
I was just going to ask, how did you get into the practice of yoga?
While studying at UM, I walked into a class at random, I didn't even know there were even different types of yoga. I didn't understand it much but I liked how I felt afterwards, and really the rest is history.
What advice do you have for people who have never been to a yoga class?
That there is a yoga for everybody. Regardless of physical ability, or athletic level, there is a yoga for every person. Yoga is for every type of body—theres a modification, an adjustment to respect and honor where your body is right now at this moment. For someone who hasn't tried it yet? Try it, and keep trying it, find out the type of yoga that resonates with you.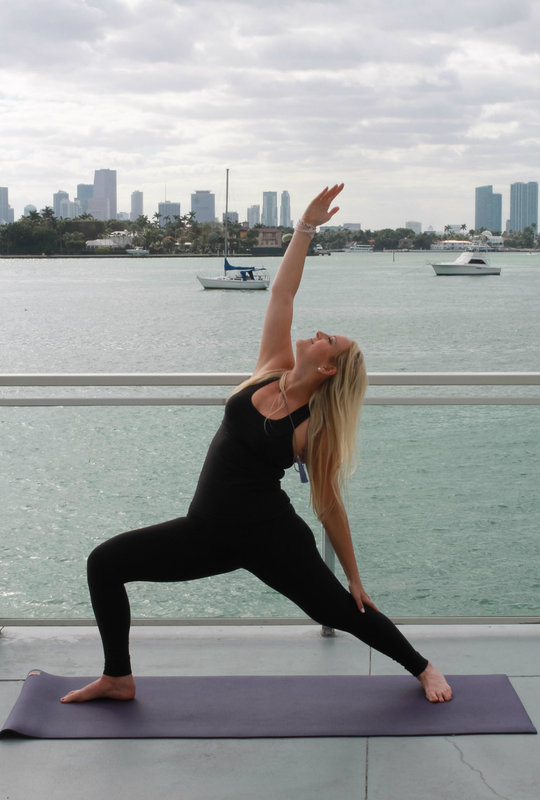 Tell us about the class offered on Sunday mornings at Mondrian South Beach.
The class we have at Mondrian is for everybody, its meant to be accessible. You can be a newbie, or a frequent yoga attendant and you'll feel like you had a workout but also like you are relaxed. The yoga that I teach is for everybody. We sometimes see dolphins, rainbows, it's so beautiful to do yoga out in the middle of nature. Yoga outdoors along the bay, there is really nothing better. It's the best yoga studio in Miami, and it fills you with gratitude to be able to practice here.
What kind of yoga do you prefer?
Vinsaya yoga is my favorite. Depending on the body and the mood, I might do a class that is more restorative. First thing in the morning, I like to get the body moving. I teach meditation as well, and beginner and advanced level classes, so the class here is really a combination of it all. On Sunday evenings, I teach a deep relaxation class that is a great compliment to the morning class—I have some students that join us at Mondrian in the morning and at the studio at night.
What are some of the benefits of yoga?
Really, they are infinite. You're getting benefits of health and fitness, but it goes beyond that. It goes into focus, relaxation, de-stressing. All of that while also having fun—yoga is fun! It's a great way to move the body and become more fit both in mind and body. I'm really a fitness fanatic, I ride my bike more than I drive a car. Yoga is a great complement to any other kind of workout you are doing, and its so great for balance. It makes any sport that you participate in better. I love it all, I go to Flywheel, and there is so much to do here.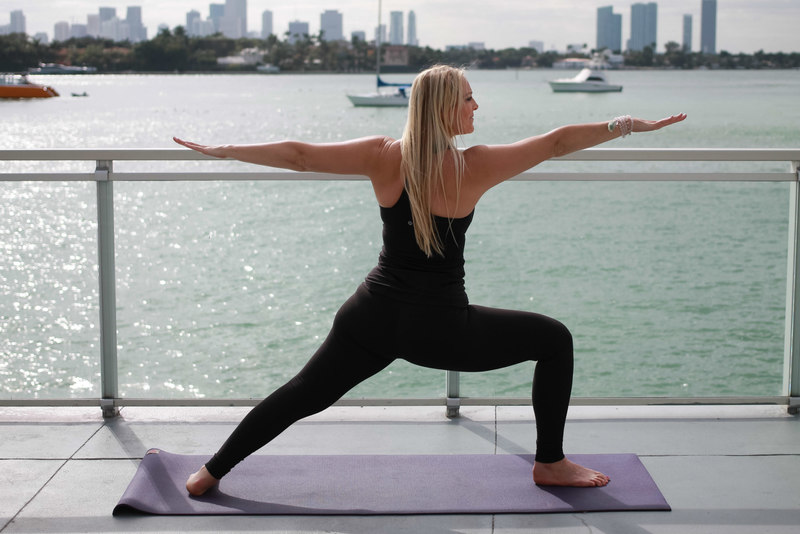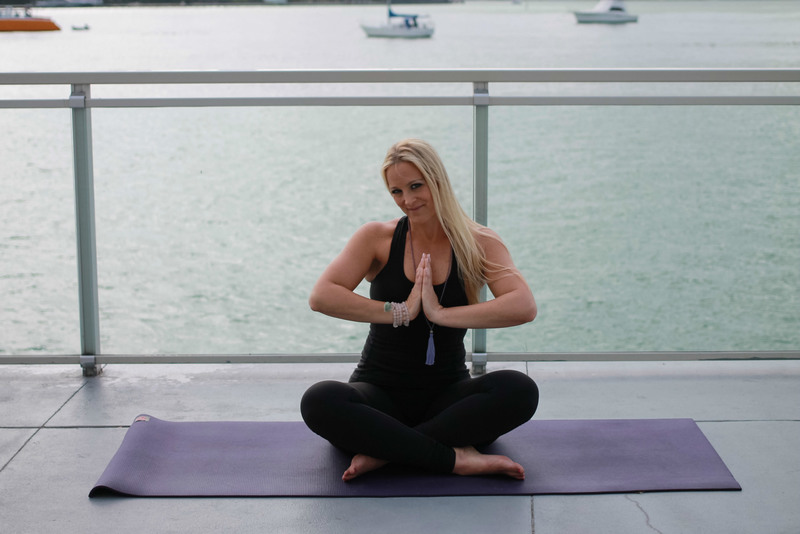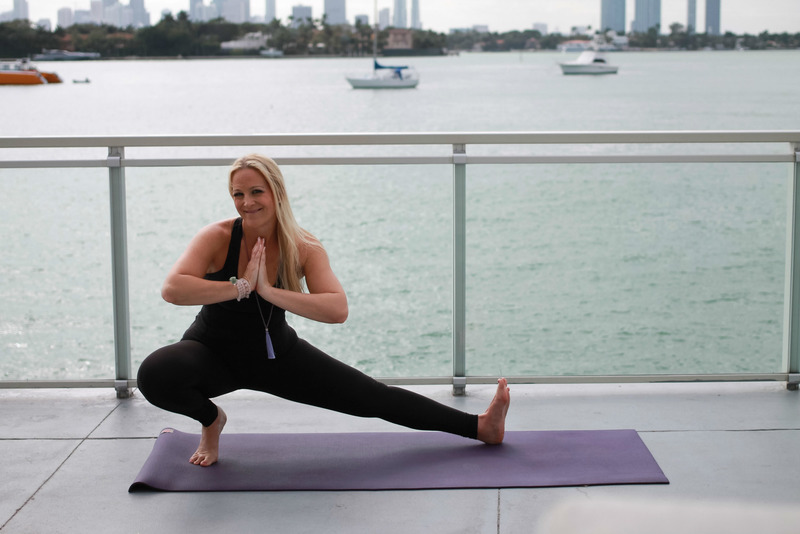 Do you have any Miami health/wellness tips?
It's easy to find balance here. You can stay up late, party all night, but then wake up and have a healthy day. Enjoy fresh tropical juice, lots of water, get fresh air. Detox to retox. Nothing like a yoga session to balance out what you did last night.
How do you think Miami is conducive to a healthy lifestyle?
Miami is a very forward thinking city in terms of fitness. The weather is conducive to being outdoors, to wearing less clothing, and to keeping yourself fit. Walking, yoga outdoors at Mondrian, riding your bike, whatever the case may be—its a challenge to NOT be fit here, because the city is so amenable to it. There's fresh food—fresh fish, fresh fruits, everything.
Around Miami:
Favorite restaurants: I am really liking Dirt, they have a lot of good bowls—the Detox bowl is great but really I have had them all and they are fantastic. Over on Purdy, Juice Lab, I love the smoothies there. Also north, Tasty Beach Cafe—they have acas bowls that I love and an acas goji smoothie, it's a can't miss. I am vegetarian, I've been one as long as I can remember. It was actually a very easy transition, I think people should eat how they want to and that's what makes me feel good. The breakfast at Mondrian has some amazing vegetarian options, I usually stay after morning yoga with some of the students.
Favorite place to grab cocktails: So many good places, let's see. I like Segafredo on Lincoln Road. It's very Miami and the people watching is unbeleivable. Blackbird Ordinary in Brickell is also a great place, live music and good drinks.
For people who have never visited before, what do you recommend they do in Miami: Walk on the beach, enjoy the sunset at South Pointe park. Start your Sunday at Mondrian with yoga & brunch, some pool time. Miami is water! That's key. There's good food, and outdoor seating—spend as much time outdoors as you can. Do some shopping on Purdy Ave. I know everyone loves Wynwood, but I love the beach. Get some beach time, pool time, yoga time—you'll go home feeling restored.
Find this Creator:
Website: HilaryPackin.com
Instagram: Hilary Packin
Twitter: Hilary Packin
Facebook: Hilary Packin
Other Locals