About This Creator
James Haunt grew up in Southern California drawing cartoons before being introduced to graphic novels, anime, and graffitti which helped him segway into large scale murals. His murals are often brightly colored and stylized in the manner of a graphic novel. James Haunt just recently completed the Mondrian Mural at the entrance to Skybar at Mondrian, which is an homage to Mondrian's 20 year anniversary.
Tell us about the Mondrian Mural.
For this mural, I was told it's Mondrian's 20 year anniversary so I did some research on the hotel. I wanted to make the anniversary subtle but still shout it out. That's why I did the 2016 in Roman numerals on a billboard on the right hand side. The 1996 is in the background yet it's still bold. I wanted to express it subtlety. What I really wanted to push was the fun and sexiness of Mondrian, the parties that I've been to here, and give it that Sunset feel. You know you're on Sunset Blvd with the palm trees, the street signs, etc.
On such a long piece, sometimes it's hard to make it flow well and fit imagery into it. I'm used to doing big rectangles but the shape of this wall is different. I had a lot of fun with it though and I think it worked out well. I just want people to feel good when they see it. Even if the mural is only here for a short time, it's cool because the atmosphere and energy of people coming here is uplifting. I want people to feel good about art and life in general. I like to have fun and I want people to feel that energy and fun in my work.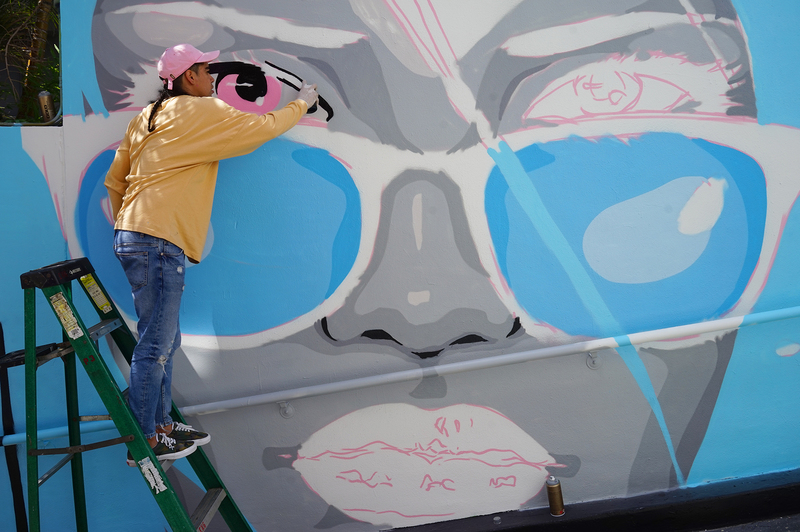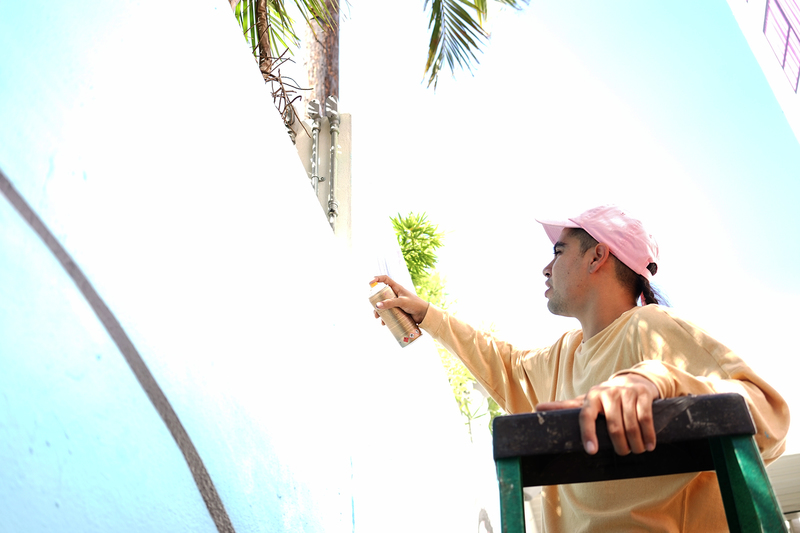 You have a common theme of girls in your work. What's the story? Is she a particular girl?
Back when you're young, if you could draw a pretty girl, then you were good at drawing. So many artists paint women – there's a thing about it. I've been drawing since I was a child. Obviously, being a boy I was attracted to the opposite sex. I wanted to draw these pretty images of eyes or lips of girls and make them into this dream girl vibe. A lot of my style is influenced by comic books and anime growing up as a kid and a lot of them had pretty girls in it. It's something that is very human to be attracted to. I think women represent the human race in a very beautiful way. That's why it's been a common theme. I really also like to draw animals. I've been incorporating more leaves/foliage and water – different elements into my work. For the most part, I've been trying to simplify my art so that it's very soft and gentle to look at while still having strength and fierceness to it.
Was there a first comic book or anime that made you really want to draw?
I remember my Korean friend introduced me to this Street Fighter anime when I was in fourth grade. It was like a rated X Street Fighter. It was in Korean and the artwork was beautiful and the storyline was amazing. That to me was like, "Oh. Art can be sexy and push the envelope but still be beautiful. Damn that's dope." I was not expecting that. That was one of the first things that changed my mind. It was sexy, cool and stylized. It was moving. I guess that was one of the first provocative experiences with art that influenced me. That and I started reading Spawn comics and Todd McFarlane – comics that were meant for an older demographic than I was at the time. The details, the artwork, and the storylines really moved me. I wanted to do graphic novels and storyboards for a long time, which I did for music videos and projects like that when I was around 18 years old. My work now is like a graphic novel in the streets but without a set storyline.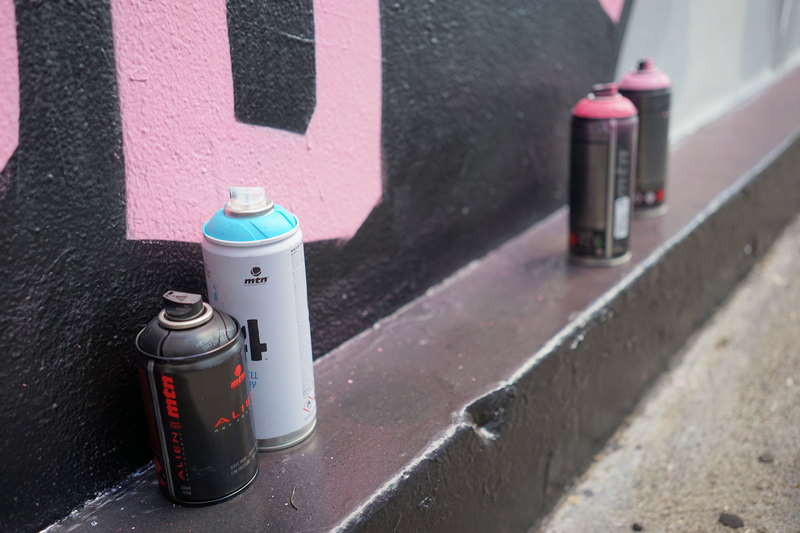 You mentioned that you got hooked when you started doing graffiti. Do you remember some of the first times you did graffiti?
When I was a kid and was drawing a lot, my older cousins were gangsters. I looked up to them and I wanted to be a gangster. But I still liked to draw my stuff. One day, my cousin looked at my brother and me because we were drawing Bart Simpson and different things and said, "Damn you guys are good at drawing." I was probably 8-10 years old and he took us to this graffiti yard where dudes would piece huge murals. We're walking down this water reservoir place probably 30 minutes from LA. I remember seeing all these things that I would draw on a small piece of paper in these large-scale murals and it blew my mind. So I started trying to emulate graffiti letters and by the time I was 13, I was getting a little more reckless and started stealing spraypaint and really starting to paint and channel my drawings into large scale pieces. At first, I sucked. No one starts and is good at spraypainting but I saw potential. Some of my first experiences were being in my friends' backyards spraypainting on boards just to have the confidence to make a good piece. By the time I was 14-15, I got arrested for the first time. I had been on the streets painting aggressively and recklessly. I was busted because I was spraypainting in broad daylight after school. At that point, I was on probation from 14 until 18. It was a crazy lifestyle being into street graffiti: I got jumped, I got beat up with bats, I got beat up by the police. I woke up on a stretcher because two undercover cops whooped my ass and I STILL got a ticket for possession of a vandalism tool. I plead not guilty and got to walk away for it.
Too much heavy stuff was happening. I wanted to do something different and uplifting. In high school I started learning graphic design and after I finished, I started freelancing and doing live art at events. I really pushed myself as an artist and a designer. I did it until now. My manager/business partner Justin and I teamed up about 7-8 years ago and developed a private label t-shirt business that we still do to this day and do all of this other art and design stuff. It's been a long road but it's been worth it.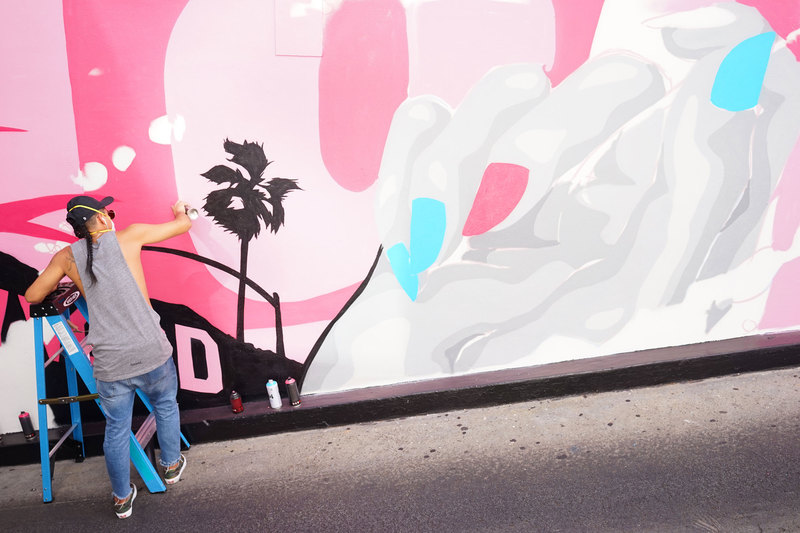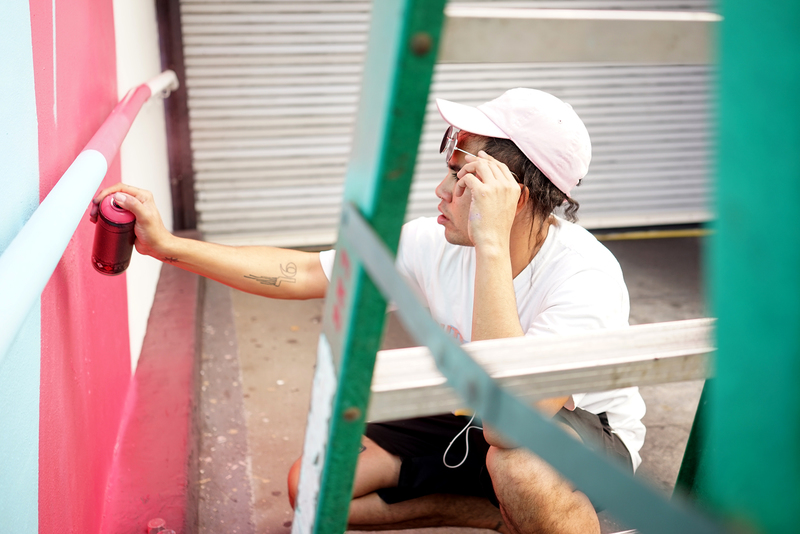 Did you think you'd end up here?
Yeah. I wanted to do things like this. I would see stuff on TV and think, "I can do that." I pushed myself to do that at an early age. I'm pretty much making money out of thin air for my art – which I was getting arrested for a couple of years ago. That to me was a huge light and gave me the motivation to continue to push myself harder. To this day, I'm still stunned that I get to do half of the things that I get to. I'm counting my blessings and am really grateful to have these opportunities. I'm happy to be able to make a living and support myself.
If you could do a dream piece, no restrictions, what and where would you do?
The first piece on the moon? I would paint a huge cruise ship. Something out of the ordinary. No restrictions? I've always been over the top so that would be amazing. Yeah, a cruise ship on the moon.
Any other artists we should keep our eye on?
Chris Brown. His skills are improving a lot. He pushes himself to get better with music, art, everything. I'm proud of his progression in art. One of my good friends, Drew Merritt, is doing great work and is an inspiration. He's an amazing realist putting out amazing, spectacular work. Another person is Andreas Hijar who also goes by Golgo. He's an amazing realist painter out of Mexico City. He's probably one of the most talented people I've ever met in my life.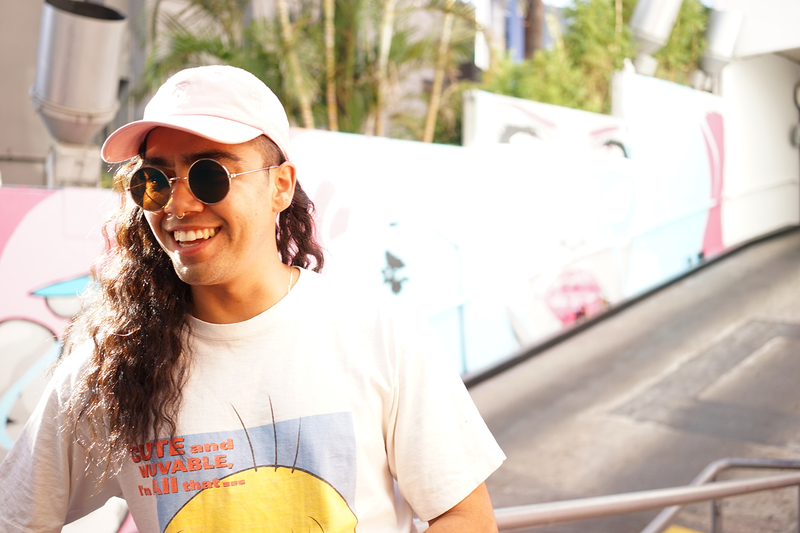 Favorite Places in LA
Place to eat: I love Japanese ramen. There's this place in Little Tokyo called Daikokuya that I've been going to since I've moved to downtown LA on my own like 12-13 years ago. I'm turning 32 and I moved to downtown when I was 19 and I fell in love Daikokuya and have been going there ever since. My favorite dish is the Daikoku ramen. I don't think I've ever tried anything else.
Place to grab a drink: My block bar that's always been there is Spring Street Bar on Spring Street. That place has been there since before I moved there. Some of the OG bars are gone but that's the local go to. That's where I start most of my nights. I get the Scrimshaw Pilsner. I'm a simple guy. They have a lot of craft beers but I'm not trying to get full.
Favorite place in LA to get inspiration: Sam's Hofbrau. That's our go to. The food's actually good too!
Follow this Local
Website: jameshaunt.com
Instagram: @jameshaunt
Facebook: @james-haunt
Twitter: @jameshaunt
Other Locals