About This Creator
Keri Ingvarsson is the co-owner/partner of GenArt, an institution spanning the United States with the goal of highlighting emerging artists across film and fashion. Having surpassed its 20th birthday, GenArt continues with its mission in an updated manner and focused goal. We sat down with partner Keri Ingvarsson to chat about the history and direction of the organization along with GenArt's partnership with Mondrian Los Angeles to present the weekly Dive In Theater on Monday nights.
When was GenArt created and what was its original purpose?
GenArt was founded in 1994. It was a visual art company at the time that looked to highlight young, emerging artists in New York City and bring the consumer audience to the artist. It was a direct to consumer model to support artists. The model lived on a platform, which was the live event. GenArt was a social medium before social media really existed.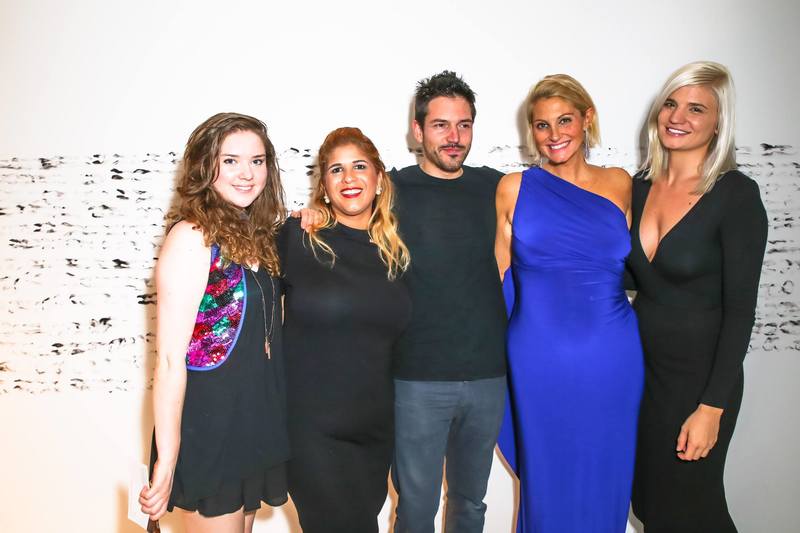 GenArt relaunch at Mondrian South Beach
How has it evolved to what it is today?
It started in 1994 and we added a film program and a festival which went on for 17 years and a fashion program, called Fresh Faces in Fashion. Each pillar aimed at supporting emerging talent and bringing them directly to consumers. The industry really started to take note on what GenArt was doing. The membership and a lot of events grew largely during the 2000s. We weathered the recession but in 2010, we hit a dip and new owners bought the company, then I bought the company two years ago. So where we are today is that we still highlight emerging designers but we're bigger storytellers. We're bigger content players. We don't just do live events. We work with the artist, the fashion designer, the film maker, from point of discovery to help their brand. Live events are still a yes. For example, in fashion, we'll still do a runway show, but we look deeper. How can we help these brands sell? We have partnerships with brands that are selling to the consumer i.e. Bloomingdales, Shop Spring, etc. We've opened up an agency within GenArt called The Accelerator. We call it The Accelerator because everyone has an incubator. In theory, an incubator is a great thing because it nurtures young, young talent. With The Accelerator, we're looking for those a couple of years into their careers. It might be that filmmaker that might already be a working filmmaker. Maybe they've even had their first feature, but they're struggling with their second. Or maybe they're working with shorts or a successful TV producer but want to do films. We shelter, harness and promote those projects. It's the same with fashion. I guess you could say we've evolved because we've created a sales platform for talent and we're not working with the talent that's as young as the talent when GenArt started. Why? Well there's a lot now for young talent. Universities have taken note. CFDA has an incubator. In film, there are thousands of film festivals. We fill in the gaps of adapting to the times and what does talent need now from GenArt that's missing.
How do you pick who you work with?
Everything is contest based within GenArt meaning we assemble a jury of experts i.e. Betsey Johnson, Trina Turk, Greg Armis and a lot of big players in the fashion industry are on the GenArt fashion jury. We do the same in film i.e. the producer Tom DeSanto (who created Transformers and executive produced X-Man), Kweku Mandela, etc. So we assemble these juries of experts in each area and we work alongside them to think about how are we going to relevantly find these candidates – we don't want a sweepstakes or anything gimmicky. We brought back Fresh Faces in Fashion and we will bring back the GenArt Film Festival. They apply through Fresh Faces in Fashion and 1100 entries becomes 20 finalists becomes three (presenting runway shows) becomes one finalist. We just did the GenArt Fresh Faces in Fashion LA. Again we ran a large contest and we chose five designers, then in October we'll announce the one finalist who will join The Accelerator.
The new GenArt is sales/results driven – we don't wait because we already have our brands from last year on Bloomindales and our brands from last week on ShopSpring.com for sale. We make sure sales happen right after our big PR event. Next thing we're looking at is sophomore talent that's working more in the industry because we can help them more since they're ready to sell and go. The third part is looking towards the future. The way the new GenArt looks at the future is on a more global, impactful scale. How can we replicate this model globally?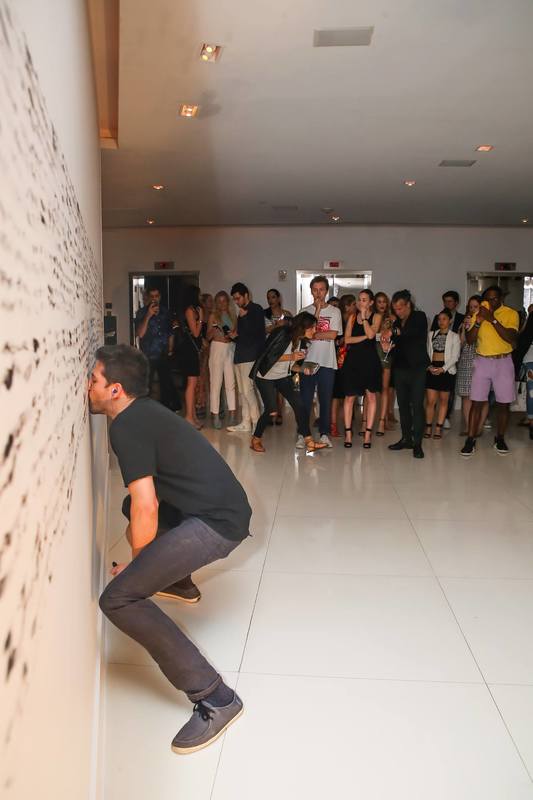 GenArt relaunch at Mondrian South Beach
Do you think there's a shift from everything that has started in NYC now towards LA?
There's a profound shift. It's exciting and I'm happy to be in it. Our main hub was always out of New York with our fashion show and film festival there, even though we did small satellite events and had regional offices in LA, Miami, Chicago and San Francisco. LA is now our home. GenArt's global address is Los Angeles, California and I'm proud of that because…. Listen, I grew up in the 80's and graduated high school in the 90's and moved to New York City. It was hot. You could turn a corner and your whole life could change. It was the entrepreneurial golden age and that's what we feel is in LA today. For me, in art, fashion, music, even film and independent films – it's all in LA. It's the heartbeat of the US and even the world right now. Things are happening at a rapid pace. The opportunity and the talent coming here making clothes, making art, making music, sharing their films with us… would you rather be somewhere else? Profound shift.
On the agency section of GenArt's website, there's a quote: "it's a left and right brain approach to content creation." Can you explain what that means?
We always think about two sides: the artist, the actual content, the art and pairing that with the right brand. For 20 years, we have not sold out. When there is a sponsor or corporate partner involved in one of our programs, you feel it through and through that they are there to support the art and the talent. The one real arc that we have seen through the old GenArt and the new is that we are corporately funded (and privately funded via members,) which are integrated into legacy programs. For example, we built the GenArt Film Festival alongside Acura and they were integrated and respectful of every filmmaker, film and film premier. That's what we continue to achieve today. When we take on a project, we look at all the talent first and how it will play, what will happen with the artist in Basel, how will this play out, what's the best venue for them, what's the best lighting for the art, all of that. Then, who will we partner with so that the public outside of this world will see the art? Is it a partnership with YouTube, etc? But then we're concurrently thinking, we have Nestle over here giving us water. No. Nestle doesn't give us water. We will look at the brand DNA of Nestle and then of Quaker, Tropicana, a lot of these brands that you might think aren't sexy. Not to me. They're here to support young talent and we'll pull out their DNA and find something like Quaker supports changemakers or that Tropicana is about transformation and health. We really dig deep to make sure the content is mirroring the art and that it comes together in a beautiful formation so that there isn't a doubt that it's inauthentic.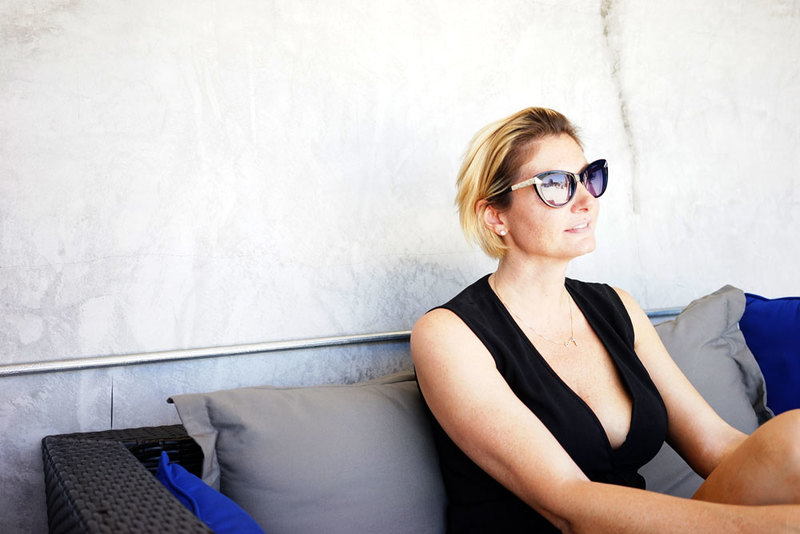 What is your goal with the new GenArt?
GenArt of tomorrow is a media company. It was one of the first social mediums using a live event with human exchange. We multiplied that because we did events in multiple cities. By 2005, we did 150 events per year. What's so exciting is that technology can take our messaging, our power, and our talent, all over the world. New GenArt, the future of GenArt, is tied in. We get to innovate alongside the new technological development and utilize them for our talent. I hope to support 25,000 artists a year.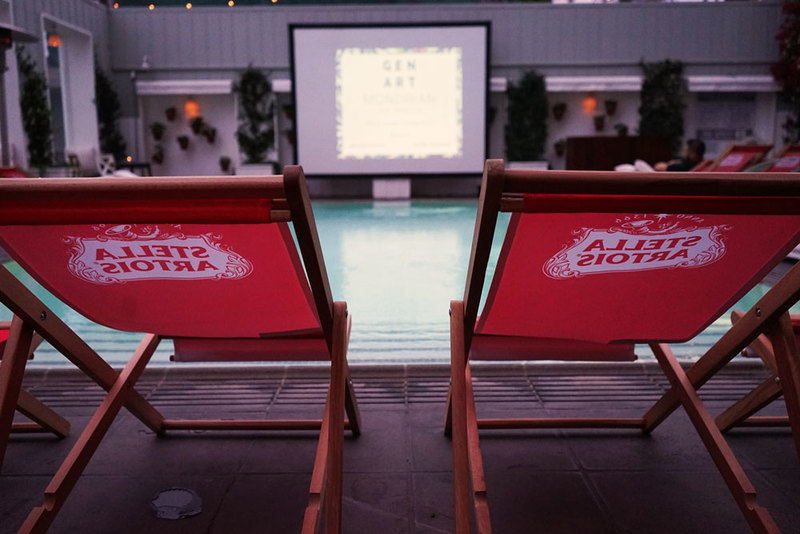 Tell us more about Dive In Theater at Skybar.
We're really excited about Dive In Theater – it's such an awesome program. I talked a lot about young talent with GenArt but discovery is also important to us. Something that I get to do with Dive In Theater is bring back some of the greatest films over the past 20 years here as Mondrian and GenArt Film celebrate 20 years. We get to bring in talent from behind the scenes to tell us about their movies. It's amazing to go to a film festival and watch a film for the first time, but to watch a film that you love and were impacted by and then to meet the great talent behind it… That's what's so great about Dive In Theater. It's 20 weeks and 20 films with a Q&A with each film. The themes tie in nicely as well. It's still a popular film for Mondrian guests and GenArt guests but again, there's that point of discovery and another layer. When we had Whiplash with the cinematographer, it was art IN film. When we showed Swingers, we brought in the costume designer to tie in fashion and film.
Any hints on who's coming up?
We're really excited! We'll be screening Labrynth on Halloween. One thing I have to mention is that for Empire Records, we're bringing director Allan Moyle to talk about the movie. We're so excited that Mondrian lets us play and bring our audience to discover more. It's a great compliment what we do to show these bigger films. Some of these films have even premiered at GenArt. Empire Records was one of them as it's an indie film – we did the Chicago premiere. It all perfectly ties in.

Follow This Local
Website: genart.com
Facebook: @genart
Instagram: @genart
Twitter: @genart
Other Locals