About This Creator
Nik Shanlin is Los Angeles based artist and designer whose exhibit, "Ephemeral," will be on display at Mondrian Los Angeles from July 31, 2016 until September 9, 2016. "Ephemeral" is Shanlin's first foray into this style of modernistic painting, an exclusive collection of graphic mixed-media works exhibiting an unique blend of traditional painting and contemporary technology. The exhibit will display never before seen works, and premiere Inspired by traditional fine art techniques and computer generated manipulations, Shanlin is known for pushing the means of conventional painting, engineering shapes and images to create visual works of art never seen before. We visited him in his studio ahead of the exhibit opening. For more information and purchasing please visit the lobby store at Mondrian Los Angeles, Exxhibit.
Where are you from and how did you end up in Los Angeles?
Grew up back east (one of those insignificant small towns) and moved to LA after art college to work as a freelance designer. I felt it was the right place to be at the time, which I feel was a good move now seeing how much LA has evolved into what seems to be the next creative capital.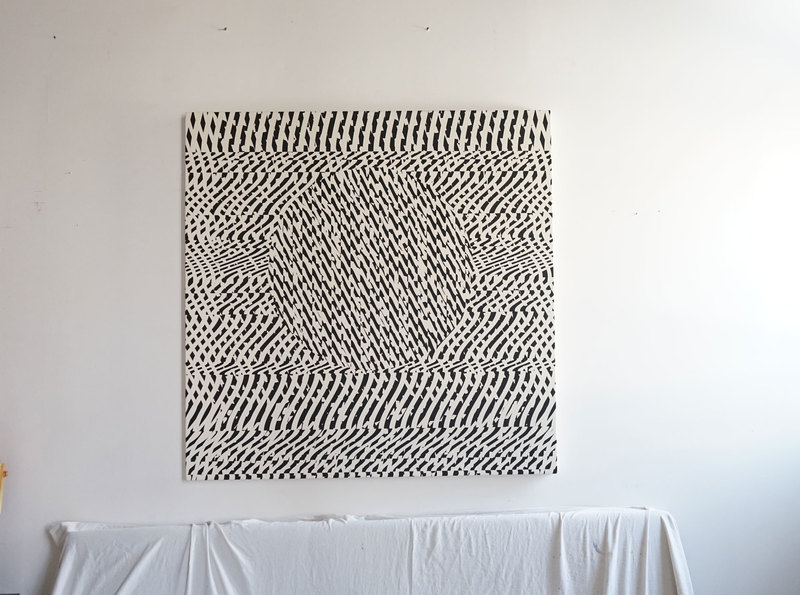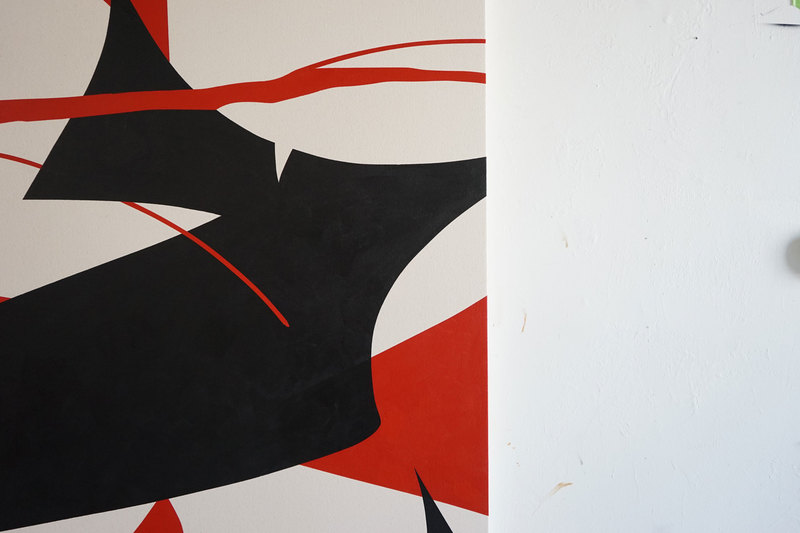 When did you start painting? Any pivotal moment where you decided you wanted to focus on being an artist?
Before this series, that I started 2 years ago I didn't paint much, aside from art college basics. I have been primarily focused on design and graphic arts, which has been an ongoing and evolving professional interest. What initially prompted me to create these pieces was a rebellion of such to the confines set forth by the more commercial projects I work on, on a daily basis. I think all in all I spent about five years dreaming up these ideas which I knew would inevitability become a reality at some point.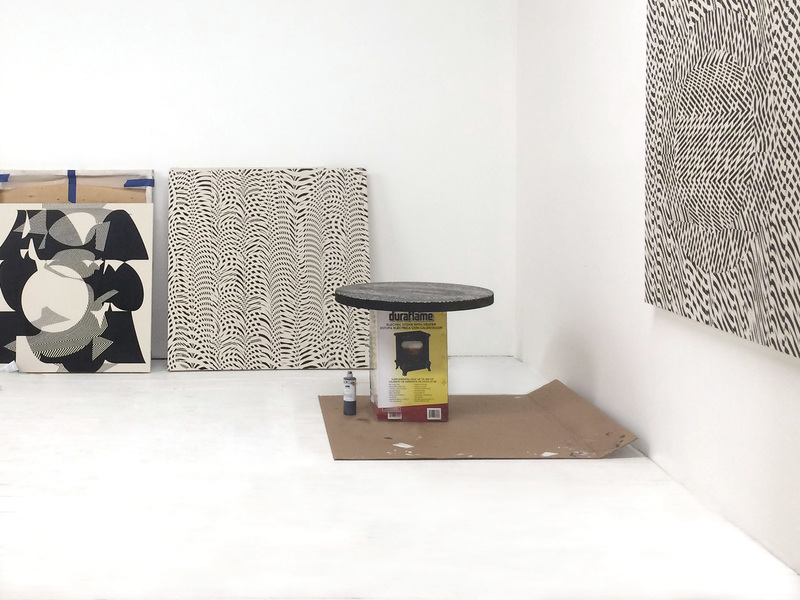 You've described your paintings as a fusion of traditional painting and contemporary technology. Can you explain your process?
My process of getting the work onto the canvas is somewhat proprietary but I will say that I'm working with the scripting language and coding created for Adobe Illustrator (a vector-based design program) to achieve this outcome. Some shapes (basic lines, blocks or circles) I actively participate in creating, while other elements I leave to the discretion of the computers way of manipulating images, which to say is beyond my control except for keeping a discerning eye with what might and might not work visually. It's a mix of hands or intelligence so to speak. There's a lot of back and forth, utilizing a set of actions that ultimately pushes what I control and what the computer does towards the final piece. I then transfer that to canvas creating an originally painted artwork which in turn becomes a seamless physical manifestation of digital and analog, or simply exemplifies the relationship between humans and technology.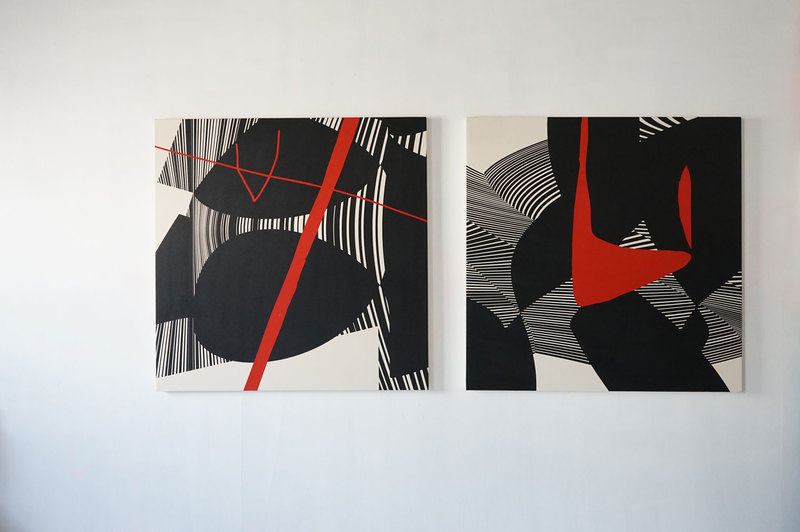 Can you tell us about the pieces that will be on display at Mondrian? Is there a common theme?
This new series "Ephermeral" is my first introduction to working with color. I don't plan on exploring this much further, hence the title ephemeral. I'm also working with bold shapes that to me strongly define the composition in an almost somewhat overbearing way. These shapes are enlarged versions of some of the finite shapes seen in my previous work, so there's a tie in there as well. To me it's Motherwell meets Riley, if I were to put it into art speak terms.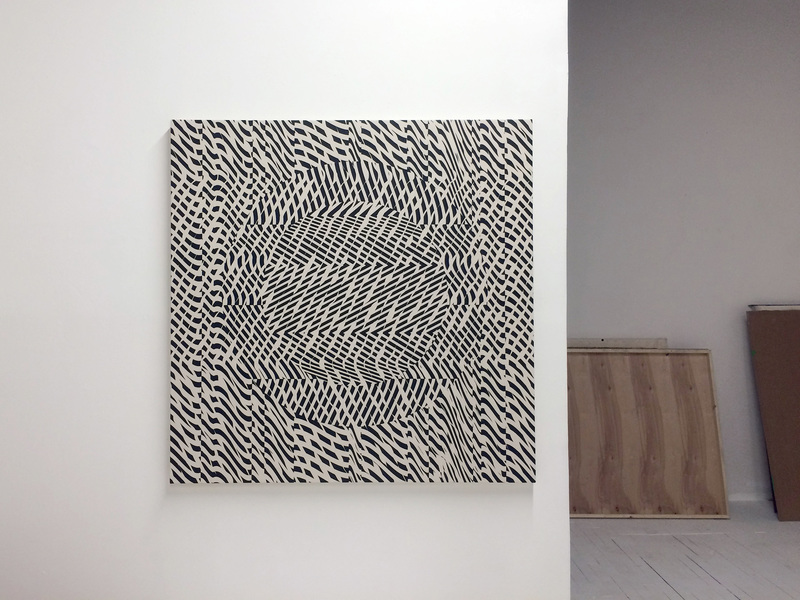 How do you see your work evolving as technology advances? More progressive programs or materials that you might use?
I'd like to eventually see a more active role that the computer can play, maybe even get some programmers on board to create exclusive functions not to be found anywhere else. Technology will lend itself to those needs at some point, which is simply a matter of time. I'd like to also explore some new materials or permanent installations, but that'll take time while finding the proper applications that keep the work in-line with it's original inception and from not feeling too manufactured. I always want one to see the hand in my work, even if it's simply the wrapping of the canvas or the relief of the gesso.
Follow This Local
Website: nikshanlin.com
Instagram: @nikshanlin
Facebook: @nik.shanlin
Other Locals