February 26, 2020
Award-winning chef, food writer and broadcaster Gizzi Erskine has been welcomed to the St Martins Lane family as The Nitery by Gizzi Erskine opens for a three-month residency until 30 April in St Martins Lane Kitchen. We wanted to give you a bit of insight into how The Nitery came into fruition, so we sat down with Gizzi herself to delve a little deeper into the process behind what was once just an idea.
What inspired you to create The Nitery?
Just like any creative person my inspiration comes from my day-to-day surroundings which include art, literature, music, philosophy and art. When I started exploring different concepts, the idea of a nightery really resonated with me. Nighteries started popping up in the late 20th century and were where intellects, creatives and big thinkers got together to challenge everything collectively with their various theories and ideas.
The entire movement started in Paris, and was later reinterpreted by America in quite a brash way to become the beginning of Atlantic City and Las Vegas. This poetic ideology held some really interesting currency for me when it came to the look and feel for this restaurant residency, and as the idea was so rich in history it would allow me to be as playful with the food as I wanted.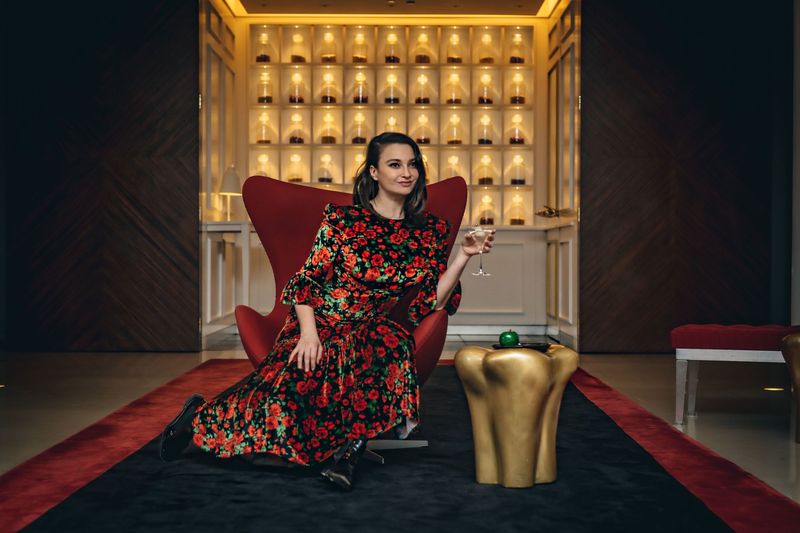 Can you tell us a little bit more about the food?
A lot of the dishes on the menu have been inspired by meals my mum used to make when I was younger – in particular, the flageolet. She grew up in Paris and would make one each week for us to have with our Sunday roast. My mum also inspired the Queen of Puddings, the rice pudding with the skin on top, and one of my favourite dishes, the Iced Beetroot and Buttermilk Soup with raw red prawns, egg and pickled onions. When you come to The Nitery, definitely try that. Or the Steak Tartare. Or the Bisque with giant Carabineros prawns and shellfish.
On top of the food and wine, I also wanted to have some signature cocktails to go alongside the menu. The Reason I chose a Gibson is because I adore gin martinis and this version is a true reflection of London made with pickled onions. The balance between the icy cold gin and the pickle is just spot on, especially as we're using Plymouth Gin for the base – it's my absolute favourite.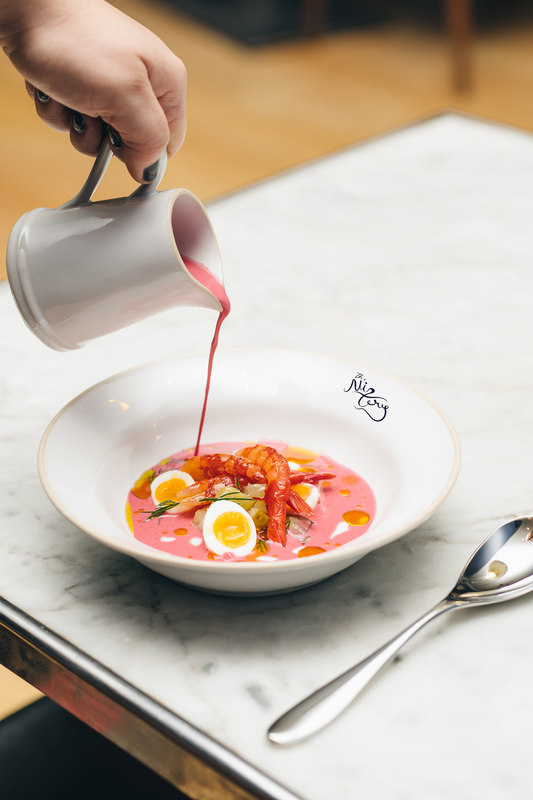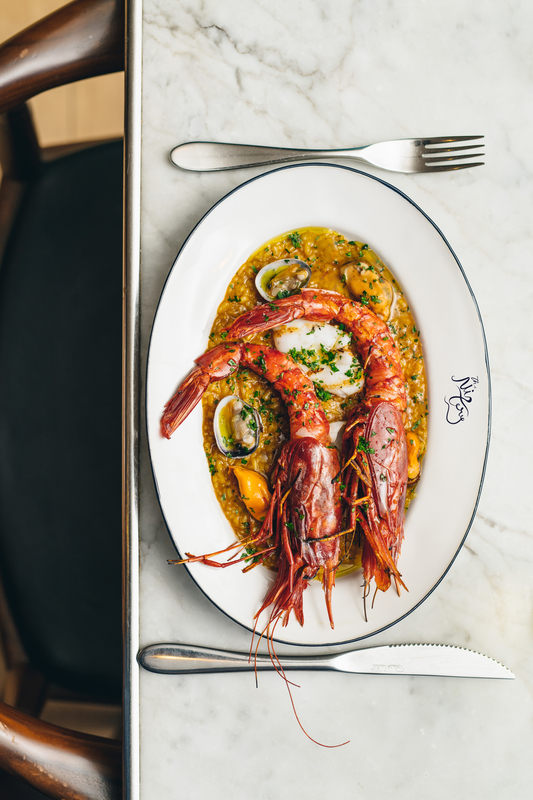 You're big on sustainability, can you tell us more about the suppliers you've been working with?
I really wanted the food I created to advocate the craftmanship of an artisanal producer. I think it's such a great way to showcase one or two superb ingredients in each dish. There are some absolutely incredible producers out there who are focused on ethically harvesting biodynamic produce.
We are working closely with Wright Brothers who supply some of the finest British shellfish where they can, but have also sourced us some of the most amazing Carabineros prawns from Spain.
Peter Hannan at Hannan Meats is providing us with a selection of salt aged, high welfare, grass fed, slow reared meats from County Kildare in Ireland. Estate Dairy and Neals Yard for their dairy products.
Keveral Farm for their slow grown and biodynamic vegetables.
Norfolk Black Chicken who provide us with our chicken – all of the chickens are grown in the wild and live a really happy and healthy life.
Lastly, we've been working with Dynamic Vines to find the most interesting and amazing biodynamic wines to compliment the food menu. We've also just received our Fogarty oven and a Fogabachi S1 Grill which is going to make the food taste insane. I'm really looking forward to playing around with fire and the techniques of cooking with it.
What's it been like working with the team at St Martins Lane London?
I'm so excited about where we are with The Nitery now. I am classically trained and have worked with some of the best chefs in the world, so something like this has come with challenges as I've had to step out of the Chef role, and into the Restauranteur role. Working with Executive Chef, Michael Hanbury has been a dream. From the moment we met I was filled with trust for him which gave me the confidence to move forward with the restaurant side of things. Working with someone who has so many years of experience and knows how to man the helm of a ship in the way he does has been a joy. Baz, the Head Chef is also machine and has been so on top of teaching the team my recipes.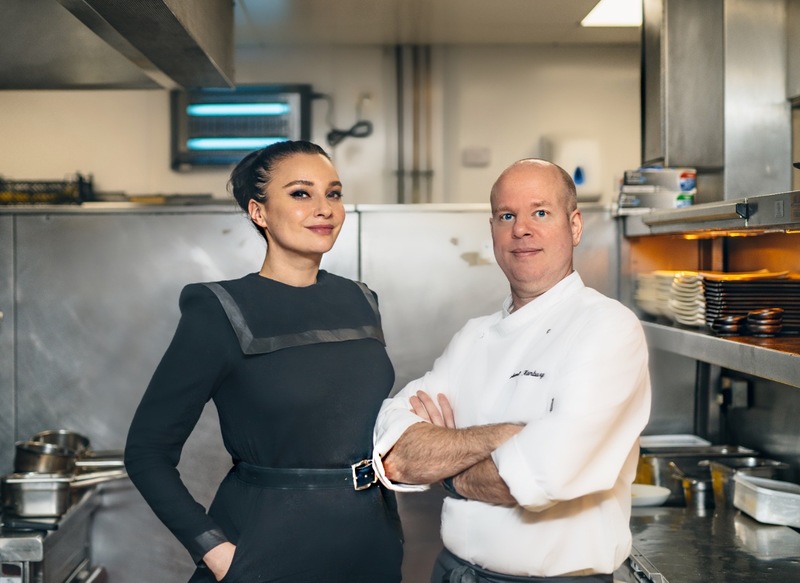 How did you make your aesthetic vision of The Nitery come to life?
I wanted to make sure the team on the floor and front of house were comfortable too, and the uniforms we have are so effortlessly cool. It's so lovely to see. I enlisted the help of some really great friends, including Polka Pants who have provided the women's workwear trousers which I designed myself, and Rockins for their incredible silk scarves. Hit & Run, another small brand, built one-off sustainable pieces for us, complete with The Nitery's logo. Every member of the team has a pair of black Superga's which really tie the look together giving an edgy feel.
My good friend Nutty at Cob Gallery has spoilt me rotten with our beautifully eclectic mix of artwork in the restaurant. I went in with a brief asking for Hedonism, magic, and night time and to say they delivered is an understatement. We have some other really fantastic pieces which I can't wait for everyone to see including our signature moon by Noel Fielding, and a couple of pieces which have been exhibited at the Royal Academy by my dear friend David Remfrey. I felt really strongly about keeping the books on the shelves from Asia de Cuba as they represented so much of the philosophical concept behind The Nitery, and it also meant we could keep this history of St Martins Lane London too.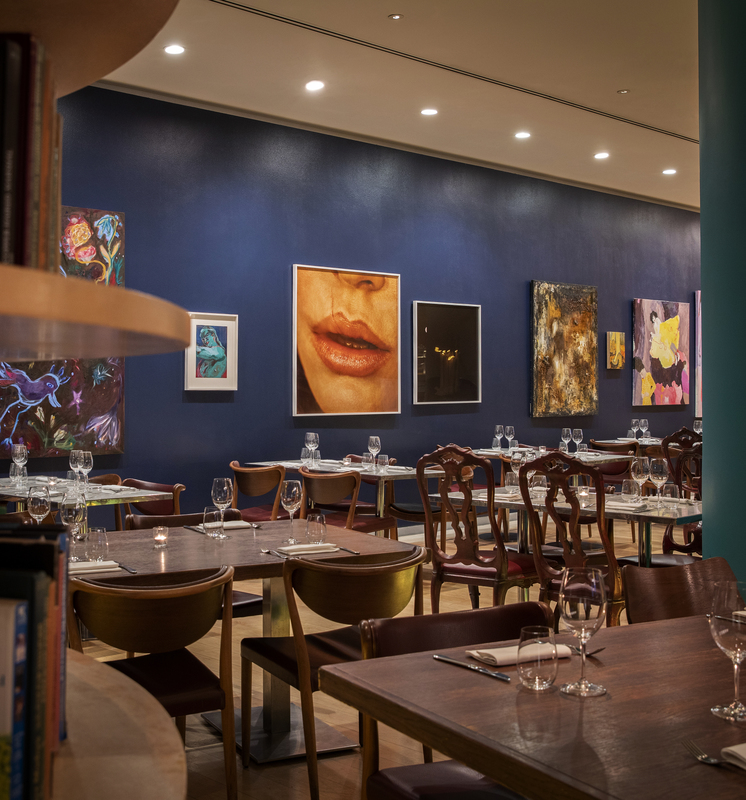 The Nitery by Gizzi Erskine is open until 30 April 2020, to book please call 020 300 5500 or email london-guestservices@sbe.com
01.28.20January 28 2020 / Local Guides
New Decade, New Adventure
12.31.19December 31 2019 / Local Guides
Upcycling Design At It's Most Festive
11.27.19November 27 2019 / Local Guides