September 12, 2019
WomanHoodLDN is a place where real women discuss real topics forging a sisterhood through real & raw interaction. Their podcast discussions are honest, full of banter, and take inspiration from current hot topics including sex, men, babies, teenagers, self-love, relationships, blended families, careers, motivations and so much more. We caught up with Monique and Nicole ahead of their live recording of the podcast at Sanderson on Friday 11 October so we could find out a little more…
How did you come together to create the podcast?
We turned our annual girls catch up from a dinner monologue into a podcast event, with the intention of forging a sisterhood through real & raw interactions. We wanted to open our circle and extend the invitation to every woman.
Describe the podcast in three words.
Podcast in 3 words; Real, Raw & Hilarious.
What inspires you most about women?
We honestly believe that women are incredible creatures that are on the brink of discovering their relentless Power! It is so inspiring to watch the rise of women today we feel like they are finally commanding the respect and recognition they deserve.
What does 'feminism' mean to you?
Nicole & Monique: First things first, we love MEN. It's not about bashing men or about competing with them for an invisible first place in a race that doesn't exist. For us feminism is about women empowering one another, it's an emotion, a feeling of belonging & a place in a sisterhood.
Do you think there are still negative connotations around the word 'feminist'?
Yes, we believe that the word feminist is often linked to images of women burning their bras, causing riots and spray painting mens cars with 'PUSSY POWER in a lovely shade of pink, and that image probably scares people. But in reality, it means so many different things to different people and the dictionary definition of feminism; the theory of the political, economic, and social equality of the sexes, is constantly evolving. It means so much more today and there are so many branches of feminism that defining it is almost impossible.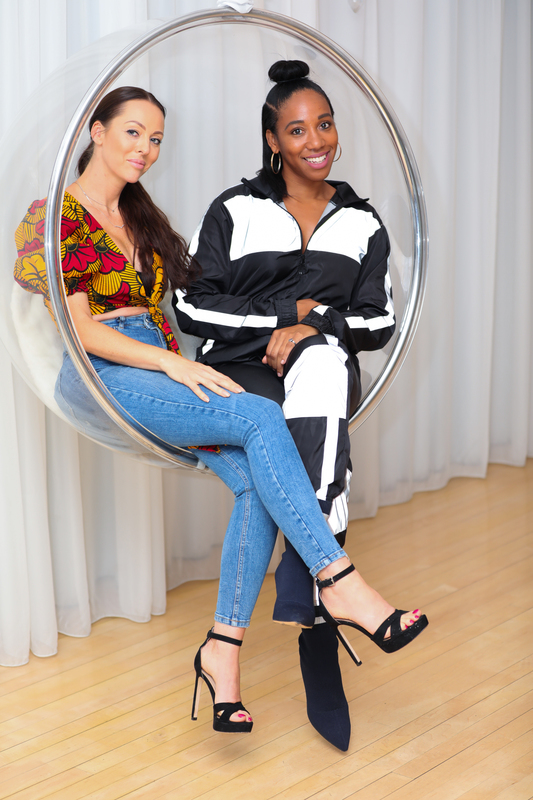 Is there anything that you haven't discussed on the podcast that you would like to in the future?
Absolutely! We don't think we will ever run out of topics to discuss. We'll always have impactful conversations, and our topics are often inspired by what's hot, what is going on in the world and others people's stories. We totally believe that sharing our stories can give other people the courage to get through their trials in life or feel inspired enough to follow their own dreams - we motivate people sometimes without even realising it. When we sit and listen to our guests we are always feeling inspired, motivated and most importantly not alone. We have always felt that WomanHoodLDN took some of its inspiration from Gabriel Union's quote about her own divorce "When someone had the courage to share their experience and tell me the truth...that's how I got through it!!"
We are living in a world fueled by social media and the pressure is on to have the perfect life, but at WomanHoodLDN we live in the real world, where life is not perfect and it is hard work we've learnt that communication between women is vital. When we let down our guard down, share experiences, we learn so much and feel so supported. When we come together we are MAGIC!
Who is your dream guest on the podcast?
Monique: That's a hard one to answer, but if I had to choose someone to interview who is alive today, it would be Gabriella Union. If the question were to be whom I was inspired by, it would be my Mama.
Nicole: yes Gabriella would be amazing we love her! To be honest I couldn't pick just one, but The Obama's, Audrey Hepburn, Maya Angelou & my Grandma! There are so many inspirational women that have a platform, but everyday gals are my favourite the ones who aren't doing it for the camera!
When you're not doing the podcast, what do you get up to?
Nicole: We are eating!! I love food and eating out, I'm a real foodie. However everyday life sees me raising my crazy tribe I have two teenagers and a toddler. Dating my man, travelling the globe & having a career in aviation.
Monique: Living my best family life - I have two beautiful children age 11 and 15. I love to keep London smiling (a career in dentistry), flexing on my yoga mat, socialising with friends and I too love food.
We both have a Masters degree in cocktail drinking & are Olympic champion dance move inventors! We love a night 'Out-Out' and a night in wearing fluffy socks & watching Netflix. Oh and hip hop yoga that's our thing we indulge in on Saturday mornings in Shoreditch.
WomanHoodLDN will be recording their next podcast LIVE from Sanderson. Tickets cost £16.22 and can be purchased here.
20th century Parisian bohemia right in the heart of the West End
02.26.20February 26 2020 / Local Guides
01.28.20January 28 2020 / Local Guides
New Decade, New Adventure
12.31.19December 31 2019 / Local Guides